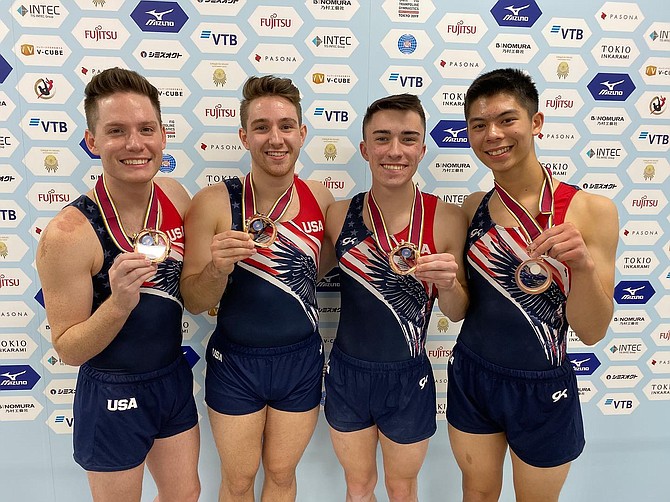 When Brandon Krzynefski starts tumbling, he really gets into it, and in November, he tumbled all the way to Tokyo where he earned a bronze medal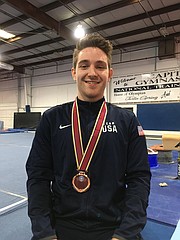 as part of the Team USA power tumbling team at the 2019 World Trampoline and Tumbling Age Group Competitions.
It all started at age four when he found his place at Capital Gymnastics National Training center in Burke. "I was a crazy kid, my parents wanted me to transfer my energy," he said. There were a couple of health setbacks too that Krzynefski had to deal with along the way. He's had Type 1 diabetes for the past 10 years, and suffered a broken ankle this past summer, but he still persevered with the tumbling.
"I've had Type 1 Diabetes for almost 10 years now," he said. "As an elite athlete, it is challenging to balance my diabetes and still train at a high caliber, but it doesn't stop me from doing what I love," he said.
As a child, he earned two Junior Worlds Medals, one gold and one bronze for tumbling, but this year it was the teens he was competing with. "Go for my dreams," he said.
In early November, his team set off for the competition in Tokyo, not knowing what to expect but after they adjusted to the jet lag, they were in the Ariake Gymnastics Center which is the same center that will host the 2020 Olympics. They faced teams from around the world, and in the end, they got beaten by Great Britain, the gold medalist team, and Russia, the silver medalist team. The best part of Japan, besides the authentic ramen noodles, was "winning the team bronze," Krzynefski said, "we went in as underdogs."
The World Age Group Competitions determined champions in trampoline, double mini-trampoline, tumbling and synchronized trampoline for boys and girls in four age-groups. The USA competed in three of the four age-group categories: 13-14,15-16 and 17-21. On the power tumbling team, the four member team was from all over the country, and Krzynefski was glad there was a girl on Team USA from Hawaii who spoke Japanese. "She was kind of like our translator," he said.
Power tumbling is not an Olympic sport at this point, but there is an effort to raise it to that level, said Vanessa Skyrmes, a spokesperson for Capital Gymnastics.
To fund the trip to Japan, the USA Gymnastics funded half and he had to come up with the other half. With his ankle in a cast, Krzynefski got a late start fundraising but used several online tools and came up with enough to pay for half of the trip. "I'm super grateful to those who contributed," he said.
When he's not tumbling, Krzynefski is a senior at George Mason University majoring in civil engineering. As a child, he built things with Legos and moved on to taking STEM classes at Westfield High School where he graduated in 2016.