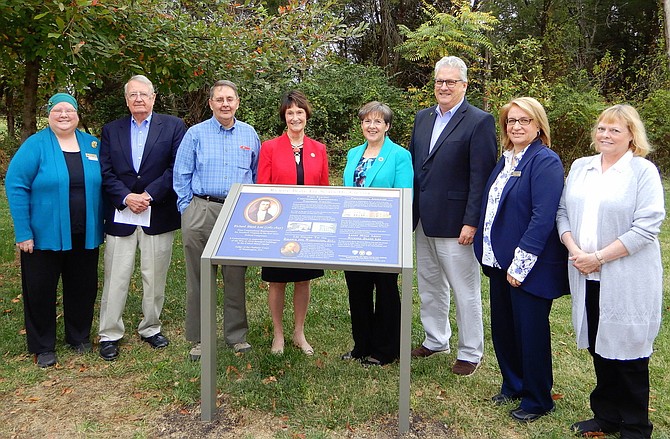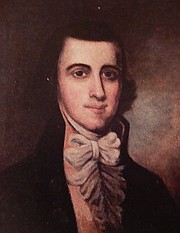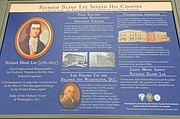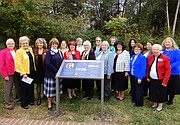 Born in 1761, Richard Bland Lee owned the former Sully Plantation on land that's now the Sully Historic Site in Chantilly. He also built the late-18th-century house that's there and was Northern Virginia's first congressman.
And now, thanks to the Daughters of American Colonists (DAC), visitors to the Sully Historic Site will also be able to learn about him and what happened on that land. On Oct. 30, they dedicated a marker to him outside the visitors' center there.
The DAC is a genealogical society that focuses on people who lived in the 13 colonies and helps people understand what happened at historic sites. And the Richard Bland Lee Chapter of the National Society, Daughters of American Colonists, developed the new, interpretive sign in partnership with the Fairfax County Park Authority.
Attendees at the ceremony included county dignitaries, representatives from the Sully Historic Site and DAC officials. County Board of Supervisors Chairman Sharon Bulova quoted author Michael Crichton, who said, "If you don't know history, then you don't know anything. You are a leaf that doesn't know it is part of a tree."
"The roots of history run deep in Fairfax County, from the earliest Native Americans, through times of external and internal wars, and through much social change," said Bulova. "It's important for all of us to remember that past – the victories and the mistakes – as we chart our path forward."
Lee and his wife and children lived on the plantation from 1794-1811, and they had slave labor. Bulova said, "Charles Darwin wrote, 'A moral being is capable of reflecting on his past actions and their motives, approving some and disapproving others."
So, she said, "Sully Historic Site helps us in our understanding of so much of that past – from farming and slave labor to our early efforts at building a nation and to our battles to preserve that nation. It teaches us how far we've come as a nation and remembers those who have put us on our current path."
FROM THE MANOR HOUSE to the various other buildings on the property, said Bulova, "We get a glimpse of the lives led by those who came to what's now Fairfax County, more than 200 years ago. Walking these grounds, touring the house and experiencing the historical demonstrations at Sully brings that history to life. Documenting this passage of time through interpretive signage allows all of us to better understand this history and the consequences of the actions we take today. Thank you for keeping the stories alive and for this beautiful marker."
Also speaking was Supervisor Kathy Smith (D-Sully), who was pleased, as well, to be at the unveiling ceremony. "The sign we are about to unveil commemorates Richard Bland Lee's legacy of service to Virginia and our budding nation," she said. "It bridges the years and brings Fairfax County's history closer to its visitors and residents."
She said historic facts must take into consideration the time period during which events occurred, the political realities and ultimately, the human impact. Therefore, said Smith, "We honor Richard Bland Lee today and acknowledge his significant contributions to this nation and to history within that rubric." She also thanked the DAC for "preserving our nation's heritage, serving as a living bridge to our past and recording our history for future generations."
NEXT, Park Authority Director Kirk Kincannon noted that, although Lee was born into wealth, he dedicated his life to serving others. After serving in Virginia's General Assembly, he was elected to Congress.
"Lee cast a crucial vote for the Compromise of 1790 that settled the nation's Revolutionary War debts and moved the capital to the banks of the Potomac River," said Kincannon. "[Later], President Madison appointed him to help supervise the reconstruction of buildings damaged by the British during the War of 1812."
"At the Park Authority, we're fortunate to be able to share history with those visiting Sully each year," continued Kincannon. "Visitors can walk through Lee's historic home, learn about the lives of Lee and his family and tour the original outbuildings. This new sign commemorating him has been placed close to a Civil War Trails sign that further interprets the history of this land. And today, I invite you to make your own discoveries here at Sully."
Carol McDonnell, Sully Historic Site manager, told attendees that President Eisenhower preserved Sully as a historic property. And, she added, "As stewards of this unique site, we'll continue to take good care of it."
The marker to Lee was the last project of Noreen McCann before she retired as Sully's historian and visitor services manager. "This sign further highlights another story Sully has to tell and puts it in perspective in today's world," she said. "We're grateful for the Richard Bland Lee DAC chapter for sharing in this."