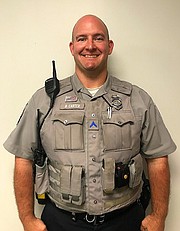 PFC Brian D. Carter was selected as the Sully District Police Station's Officer of the Quarter for the second quarter of 2019. And as such, he was honored at a recent meeting of the station's Citizens Advisory Committee.
Police Lt. Tim Burgess nominated him, explaining why he's deserving of this award. He began by saying Carter has "consistently exhibited a strong work ethic and passion for engaging the needs of the Sully District."
While noting that Carter is meticulous about the details of his assignments and has become "extremely competent within the subject of warrants," Burgess said the officer's efforts go "above and beyond what is required of him and define the attributes of an employee who is extremely conscientious toward policing and relationships."
Describing him as highly reliable, Burgess said Carter possesses "a refreshing mental attitude and consistently arrives to work happy and upbeat. He is well-liked, always prepared for a laugh, and contributes to a positive and pleasant work environment."
According to Burgess, Carter spends hours searching for wanted offenders while continuing to handle calls for service in his assigned patrol area. "His proficiency in warrant services keeps building, and he has recently taken on the additional duty of training squads on the proper procedures for obtaining, serving and clearing warrants," wrote Burgess.

He also said that Carter readily volunteers for tasks and assignments and leads his squad in serving warrants. "In 2018, he attempted the service of 56 warrants, made 14 arrests and assisted on five other arrests," wrote Burgess. "In 2019, he has already made seven misdemeanor and seven felony arrests. He has also made a huge impact on clearing out the warrant files at the Sully District Station, ensuring wanted persons are contacted, service is attempted, and those warrants that cannot be served are processed and transferred to the appropriate location."
Furthermore, wrote Burgess, "Carter is a valued team member who takes minimal leave and rarely asks for accommodation. He exemplifies teamwork and communication while continuing to produce a high volume of work with a high level of accuracy. Carter leads his squad in arrests for 2019 and has served the Fairfax County Police Department with distinction, over the past three-and-a-half years. He also ranks in the top half of his squad for citation activity and second overall for incident activity."

"These commendable traits document fragments of Carter's work and his positive attitude," continued Burgess. "But he is, without a doubt, a producer, and his commanders, supervisors and the citizens of Fairfax County alike have benefited from the fruit of his labor. He has enjoyed a fantastic career thus far and has the potential to experience more highlights while serving with this Police Department. For this reason, PFC Brian Carter is Sully District Station's Officer of the Second Quarter for 2019."