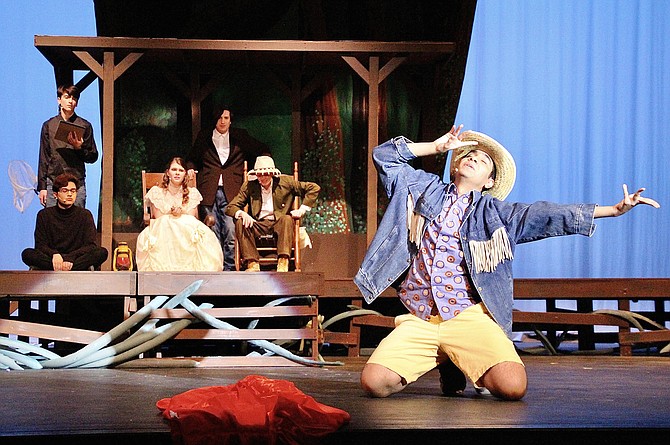 Reston's South Lakes High School Theatre Department students, under the direction of its Theatre Arts Director, Eva Forman, delighted audiences last month with a Cajun twist on William Shakespeare's "A Midsummer Night's Dream."
"A Midsummer Night's Dream" is a comic tale of how the residents of Athens mix with fairies from a local forest. In the city, Duke of Athens Theseus (Jonah Kossoy) is to marry Queen of the Amazons Hippolyta (Ryleigh Line). Bottom (Ennis Shabab) the weaver and his friends rehearse a play in the woods that they hope to stage for the wedding celebrations.
Meanwhile, four young Athenians are in a romantic tangle. Lysander (Noah Rice) and Demetrius (Kiran Drew) love Hermia (Serena Mandala-Kol). Hermia loves Lysander and her friend Helena (Farrah Greeves) loves Demetrius. Hermia's father, Egeus (Colin Walsh), commands Hermia to marry Demetrius, and Theseus supports the father's right. All four young Athenians end up in the woods where Robin Goodfellow (Emilia Cayelli) and Puck (Keaton Lazar) serve the fairy king Oberon (Aaron McDonald), and put flower juice on the eyes of Lysander, and then Demetrius, unintentionally causing both to love Helena. Oberon, who is quarreling with his wife, Titania (Maya Berry), also uses the flower juice on her eyes. As a result, Titania falls in love with Bottom, who now, thanks to Robin Goodfellow, wears an ass's head.
As the lovers sleep, Robin Goodfellow restores Lysander's love for Hermia, so that now each young woman is matched with the man she loves. Oberon disenchants Titania and removes Bottom's ass's head. The two young couples then join the royal couple in getting married, and Bottom rejoins his friends to perform the play.
Cappies Nominations
Director: Eva Forman; Technical Director/Set Designer Alessandro Gaiarin; Lighting Designer Erin Baynard; Assistant to the Director Kenzy Forman; Stage Managers Elizabeth Beausoleil, Anna Gllespie, and Audrey Moore, along with the rest of the SLHS cast and crew are proud to be nominated for several Cappie awards for this magical production.
Source: https://www.folger.edu/midsummer-nights-dream