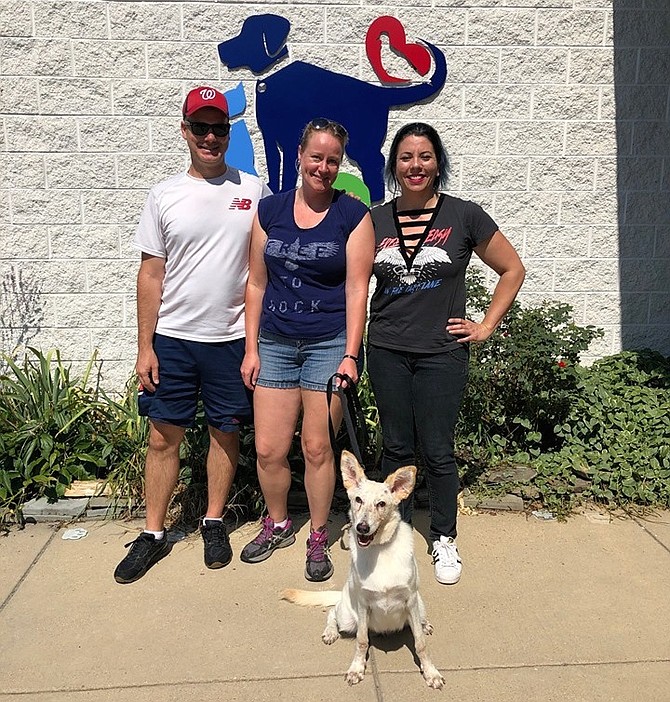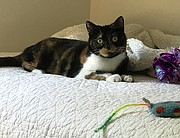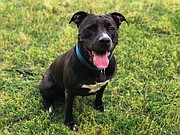 It was about six months into foster caregiving for a puppy from the Animal Welfare League of Alexandria, and on this July day foster "parents" Jackie and Lloyd Graybill were expecting a visit from a potential adopter. They were full of hope that this encounter would translate into a new home for the shy but playful pup.
The Graybills had grown very attached to Vixen, a white German shepherd mix who had come to the shelter with seven young siblings late last year and were dubbed the "reindeer dogs." Before arriving at the shelter, Vixen had developed a serious skin virus that caused frequent sores on her face and paws, as well as causing her eyes to protrude. Yet, she was a joyful animal who loved playing in the couple's yard in Fairfax with their collie-schnauzer mix, Bentley, whom they had adopted in Ukraine while on a military assignment.
Jackie Graybill, who also volunteers with dogs at the AWLA shelter, didn't think twice when a staffer asked her in January if she would take Vixen on for a while. "I love animals," she said. "If it were up to me, I would have a whole house full."
About 20 percent of the shelter's 150 foster caregivers host animals long term — for at least two months — says Foster Coordinator Kimberly Weilnau. "Long-term fostering gives special-needs animals a temporary home and the extra care they need to thrive," Weilnau said. "Having some animals in homes also increases the capacity of our shelter to care for more animals in need." Long-term fostering benefits very young animals and animals who need extra medical attention or socialization or behavioral training.
A young female calico cat with expressive green eyes and a sweet personality found refuge in the Springfield home of long-term foster caregiver Jodi Horton. When the cat, known as Julie, arrived at Horton's home in May of last year, she staked out a safe place under a dresser and wouldn't come out. "I had to set up a baby monitor in her safe room so I could learn about her and her activities — I couldn't go in there," Horton recalled.
But over several months Julie expanded her horizons, roaming the house while keeping her distance from Horton's four pet cats. Julie also warmed up enough to allow Horton to come close to her and occasionally pet her, even chasing a toy if Horton remained at a distance. "She never hissed — there's really not a mean bone in her body," Horton said. "She was just very, very nervous around people."
After eight months, Julie was able to move on to the home of another generous foster, who connected the cat with a retired woman in the area who could give Julie the space she needed. The two fosters had concluded that despite her fears, Julie was a happy cat who loved to play and experience nature, albeit through the window. Julie had found her home.
A black terrier mix named Cambridge had been a fixture at the shelter since early 2019, and by April it was time for a change of scenery. Enter AWLA volunteer Wendy Schudmak, a school teacher who volunteers at the AWLA with dogs who have special behavioral needs and also occasionally fosters them. When Cambridge arrived at her home, she was very energetic but also quite shy and fearful of anything new, Schudmak said, and would often bark and growl when people approached.
Slow, methodical exposure to new people and animals paid off, and Cambridge soon became comfortable interacting with neighborhood dogs — and people. Indoors, Schudmak said, Cambridge turned out to be a snuggler, sleeping with her at night and joining her to watch television, her paw stretched over Schudmak's leg or arm. Visits to the shelter led to a successful meeting with an adopter, and Cambridge went to her new home in August. "With Cambridge, I really saw a change over time," recalled Schudmak. "The longer she stayed, the greater her comfort and confidence level became. I was thrilled when she got adopted, though it was bittersweet."
For the Graybills' foster dog Vixen, the July visit from the potential adopter helped realize their fondest hopes. After several such meetings that did not lead to adoption, the Graybills had even considered adopting the dog themselves. But on that summer day the young woman who visited was instantly drawn to Vixen, unconcerned about the costly medical care required for her skin condition. She suggested taking Vixen on a walk with her two dogs, who had accompanied her on the visit. All three dogs seemed to get along well, and they all immediately went to the AWLA to complete the adoption papers. "I took Vixen on one last walk around the shelter area," Jackie Graybill recalled. "I was a complete mess — I bawled all day."
But the Graybills' sadness was coupled with satisfaction that Vixen — now known as Stella — had found a new, happy home. "The foster animals bring so much joy to our lives," Jackie Graybill said. "And having them long term provides time to gauge their temperament and habits. It just makes it easier for adoptions to happen."