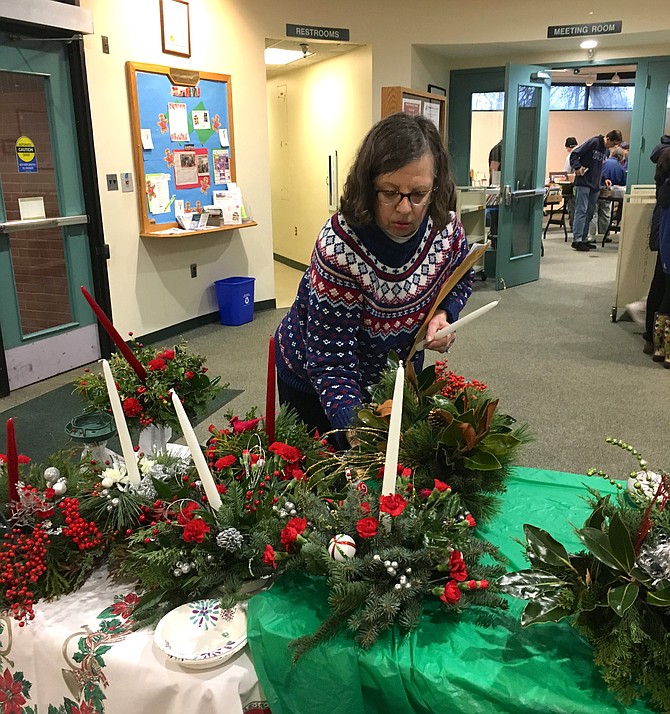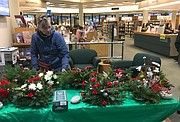 Potomac Library was buzzing with activity Saturday morning as the Friends of the Library held its monthly used book sale, and members of the Potomac Village Garden Club set up for its annual Holiday Greens Arrangements Sale.
The sale is a fundraiser for the garden Club, which provides all the plantings, mulch and care for the library grounds.
"It turns out to be a great activity and a great fundraiser," garden club member Elaine Gallin said.
There were about three dozen arrangements for sale in the lobby of the library, but members had already purchased many of the total created when members met at the home of Carol Dietzel with bundles of greens from their gardens to use in making the arrangements, member Julie Perlman said.
"It's quite fun, because we all get together to do them," Gallin said.
The garden club was started in 1963 for members to learn more about gardening and floral design, and has been working on the library landscaping since 1986 when it opened, according to a history and mission statement published by the club in 2014.
"My main thing is to beautify the grounds," Perlman said. "We started when the County stopped [taking care of the landscaping] in the late 90s. Friends of the Library helps us financially and with the fall cleanup."
The group recently created a Peter Rabbit Herb Garden on the parking lot side of the library grounds, complete with a statue of Peter in the center.
"One of our members, Linda Lear, wrote a biography of Beatrice Potter [author of the Peter Rabbit books]," Perlman said.
That gave the members the idea of creating the garden, and they received a grant from a national garden club organization to get the special garden started, she said.
The club, which has 32 members according to president Jean Coffman, does more than work around the library. They have monthly meetings with guest speakers and sometimes go on field trips to see public gardens. Recently, the club visited Glenstone, a Potomac contemporary art museum on 230 acres of landscaped grounds surrounding the two museum buildings.
Coffman said she has been a member of the garden club for three or four years.
"I joined because I wanted to learn about plants and flowers," she said. "I've learned a lot."