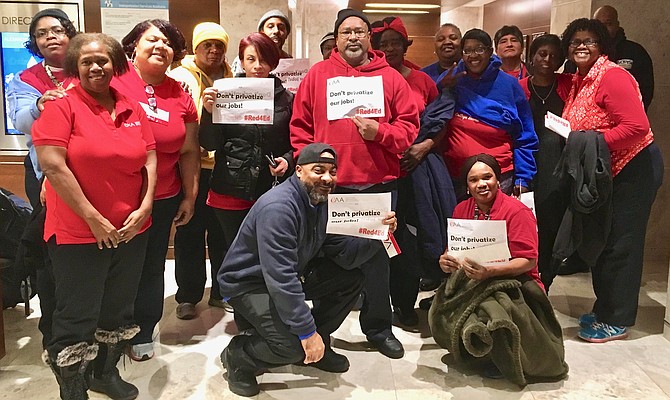 Public school custodians voiced opposition to the privatization of their jobs, as proposed in the division superintendent's operating budget, at the School Board's meeting last Thursday, Jan. 24.
Superintendent Dr. Gregory Hutching's proposed FY 2020 operating budget would outsource 44 custodial jobs worth about $1.2 million to private contracting firms.
Custodians say the move will burden their families, and also that the schools will lose the qualitative value of in-house workers.
Jamar Hines told the School Board on Thursday: "I'm a 13-year employee with Alexandria City Public Schools. … It affects me. I have two boys that are asthmatic. … I have an 11th grader preparing for college and everything. … By going to privatizing these schools, … it's hard as a parent, … a child can feel when their parent is struggling, that child is going to struggle. So I just want you all to understand, we're more than just custodians. We are fathers, mothers, sons and daughters first. And we treat those children in those schools as our own. You might not get that with privatizing."
Ernest Ward said: "I've been an employee for ACPS for 15 years as a custodian …. I was living in North Carolina, but the job I had didn't have any kind of good benefits. … I came here as a part-timer, I worked, I was dedicated to the job, and my principal and my supervisor recommended me for a full-time position at ACPS. … I have a health condition, so if you cut my job, I lose my benefits, and I couldn't afford to buy medication over the counter. … We have families to provide for, and if we lose our jobs there's not guarantee that we could … be employed by another school system, or any other job."
About two-thirds of the division's schools use contracted custodial services, provided by two firms, SSC and ABM. Transitioning custodial jobs remaining on the schools' payroll to contractors would complete a process intended to be accomplished "through attrition" since 2007, said Hutchings.
But this proposal departs from the attrition plan in that current employees cannot finish their careers, says Dawn Lucas, president of the Education Association of Alexandria, a local employee organization. Also, even if the new contractor(s) hire the currently school-employees custodians, the latter might still lose benefits, seniority and association membership, she said.
On the other hand, the schools administration says the transition would standardize cleanliness across schools buildings; streamline management and accountability; and save money.
"We do not have consistency," Hutchings told the School Board on Thursday, Jan. 10. The schools need "a standard of cleanliness, in that they have routines in regards to changing filters, to light fixtures, to toilet paper in the bathrooms. … [Currently] we have some of our buildings that are contracted and some of our buildings that are not. … We are proposing that we outsource our custodial services, so that we can have consistency in every single one of our buildings …."
The schools don't employ enough custodians so that, when one takes days off, someone else can fill the gap, said school system COO Mignon Anthony. Whereas a contractor would always fill the gap to ensure the cleaning got done.
"Everybody has tried to support the value that these people have brought, because we love the work they do, they're highly valued employees," said Anthony. But it's hard "managing people under different sets of rules."
The transition will save the schools nearly $1 million in operating expenses, said division spokesperson Helen Lloyd.
The administration plans to retain on its payroll 14 custodians who've been on staff for 20 or more years. It'll try to help the rest get hired on with the new contractor, if they meet the contractor's hiring requirements. Others will receive severances and access to financial, job and family counseling, said Anthony.