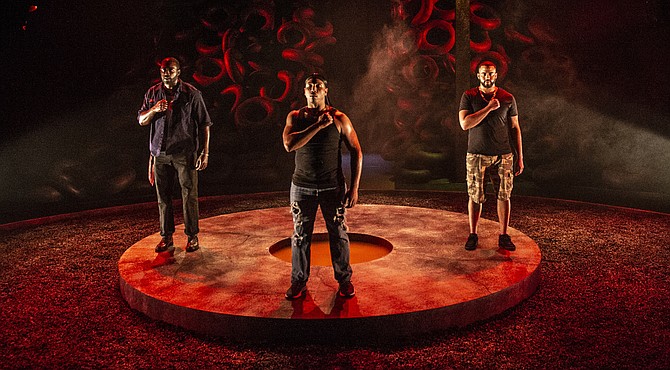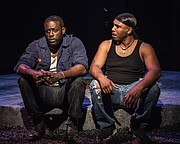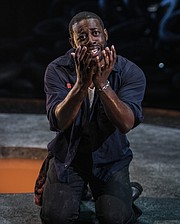 Expanding its artistic reach with another bold play selection, 1st Stage is producing the local premiere of "The Brothers Size" written by Tarell Alvin McCraney. McCraney is co-creator of the Academy Award-winning film "Moonlight" and at age 38, a recipient of a MacArthur genius grant.
Under the guiding hands of director Jose Carrasquillo, director of artistic programming, Ford's Theatre, "The Brothers Size" is unforgettable. It is wrapped in family, faith and anguish. Know that there is decency, dignity and redemption that unfolds becoming the heart of "The Brothers Size" message.
The play takes place somewhere deep in the Louisiana bayou. Living is not easy for African-Americans, even if someone is hardworking and owns a car repair business, as older and "Alpha" brother Ogun Size (Gary Kayi Fletcher) does. His less rooted, younger brother Oshoosi Size (Clayton Pelham, Jr.) is just out of prison; home to live with his older brother. Oshoosi is trying to figure out what is next in his so-far sketchy life. Also recently out of a prison is a close, local friend and prison mate of Oshoosi. He is a "brother in need" named Elegba (Thony Mena). Elegba is also adrift.

Joined together, the three characters become enmeshed in mundane day-to-day existence, along with the detritus of memories, and profound issues of what is next in lives seeped with both West African tradition and American Southern attitudes. Playwright McCraney uses first names of the three characters as taken from prominent Yoruba (Southwest Nigeria) deities.
Be aware as the tensions in the play mount, the initial language in "The Brothers Size" can be very raw for some. The delivery of words is full frontal and real. As the play progresses the language transitions to something else again; first less bombastic, then into poetic words of brotherly devotion and understanding.
Giroros Tsappas' set is inspired by elements drawn from Yoruba cosmology. There is a sizable elliptical "eye" shape surrounded by shredded rubber tires upon which performance takes place. The actors are in near constant motion over the rubbery surfaces not unlike boxers in a ring. A strategic musical selection from Ben E. King is splendidly evocative as is the percussive rhythm of fists on chests.
Under Carrasquillo's vision, McCraney's "The Brothers Size" at 1st Stage captures lives likely unknown by area audiences. It is an opportunity to find oneself absorbed into new stories and territory.
Where and When
1st Stage presents "The Brothers Size" at 1524 Spring Hill Road, (Spring Hill Business Center), Tysons. (Two blocks from north exit, Metro's Silver Line Spring Hill Station). Performances through Feb. 24, 2019. Thursdays at 7:30 p.m., Fridays at 8 p.m., Saturdays at 2 p.m. & 8 p.m. and Sundays at 2 p.m. Tickets: General Admission $39, Senior (65+) $36, Student and Military $15. Call 703-854-1856 or visit www.1stStageTysons.org. Note: Wheelchair accessible.