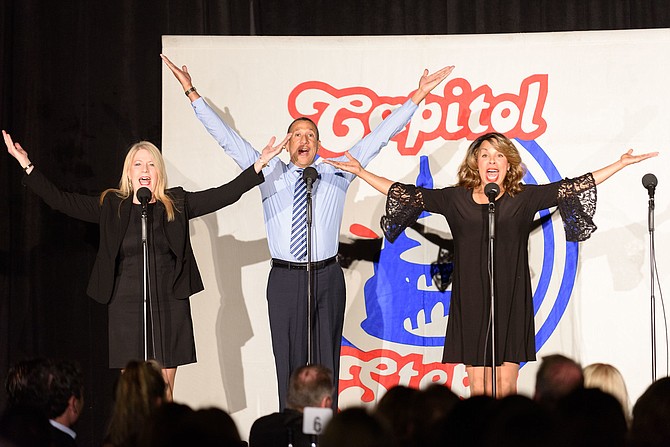 The 36th Annual Benefit Performance of Capitol Steps in support of Cornerstones took place Sunday night at the Hyatt Regency Reston before a sold out crowd of 700 guests who came for an evening of political satire all for an important cause – to help families in Cornerstones' Embry Rucker Community Shelter move to permanent housing. Proceeds benefit the programs and people served by Cornerstones – a community-based organization that has been providing affordable housing and comprehensive support services to individuals and families in need since its founding in Reston in 1970.
The 2019 Capitol Steps event was co-chaired by Susie Sylvester Duggal of Dev Technology Group and Bob Van Hoecke of Regulatory Economics Group and The Long and Foster Companies, the Presenting Sponsor.
Addressing sponsors before the show began, Bob Van Hoecke, co-chair of the event, reflected on his parents' hard work and love of family despite daily struggles, as what motivates his involvement with Cornerstones. "In our area it takes an income of $62,000 to support a family of four in a two-bedroom apartment. It's these same hard working people, service industry workers, firemen, teachers, and healthcare workers who often live paycheck to paycheck, struggling to make ends meet." He emphasized that some in attendance tonight may be experiencing that stress due to the government shutdown, adding "Cornerstones is here for anyone in our community in need because of the funds we are able to raise tonight and throughout the year."
Before bringing the Capitol Steps to the stage, John Thomas, Cornerstones Board Chair, welcomed guests on behalf of Cornerstones' board and sponsoring religious organizations, and introduced Jeff Detwiler, President and CEO of Long and Foster companies. As the Presenting Sponsor for the past seven years, Detwiler shared the company's commitment to the cause, noting, "Even though we live in one of the wealthiest counties in the nation, more than 1,000 men, woman and children – 30 percent of whom are children – are homeless in this community. We believe that supporting Cornerstones in its mission makes us as a community stronger." U.S. Rep. Gerry Connolly (D-11) addressed the crowd, recalling his role as Fairfax County Board Chair and establishing the Penny Fund to preserve affordable housing, and launching the 10-Year plan that has resulted in cutting homelessness in Fairfax County by nearly half. During the intermission, Cornerstones' CEO Kerrie Wilson shared the impact of Cornerstones' work, introducing the Capitol Steps audience to Rupa, a survivor of domestic violence whose courageous journey demonstrates what is possible for many formerly homeless families.
Rupa describes the support of her caring Cornerstones family over the years as saving her life. Today she lives comfortably in her own home, she is a U.S. citizen, manages a local business and is making plans to open her own salon. She is newly married to a caring man and relishing her role as a grandmother. Wilson commented, "For nearly 50 years, Cornerstones has provided stability for people in crisis, empowering them with resources that give them hope for brighter future. The support of everyone in this room is a testament to what our community can accomplish together to help those in need."
Del. Ken Plum (D-36) rallied the crowd for the annual "Empty the Shelter" Paddle Auction. A dedicated supporter of Cornerstones himself, he asked the audience to dig deep, and then thanked them as they raised $100,000 for Cornerstones' rapid re-housing programs.
Capitol Steps Committee co-chairs Susie Sylvester Duggal and Bob Van Hoecke, thanked a sold out crowd of 700 guests. "The generous response during the 'Empty the Shelter' Paddle Auction helped us exceed our goal for this year – raising more than $400,000 to provide safe and stable homes for individuals and families who are homeless in our community," said Susie Sylvester Duggal as she and Bob Van Hoecke presented a $412,000 check to Cornerstones. Kerrie Wilson, Cornerstones' CEO, said in a final thank you, "Because of you, and your support, Cornerstones can offer the programs and resources that provide stability to people at time of crisis, then empower them with opportunities and skills that offer hope and opportunities for the future, for themselves and their family members." Wilson noted Cornerstones' strength as a convener, and challenged guests to continue to work together as a community to build connections and develop solutions that ensure all working families have homes that are affordable.