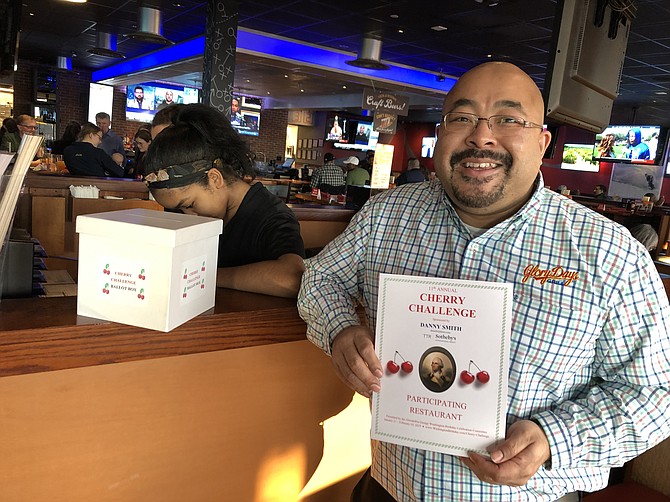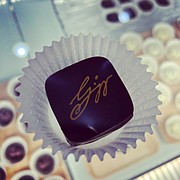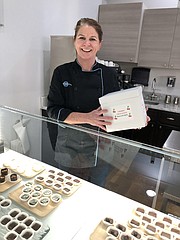 Alexandria's annual "Cherry Challenge" culinary contest has kicked off with more than 40 restaurants across the city competing to win by crafting a cherry-oriented appetizer, entrée, beverage or dessert. The "Cherry Challenge" is the first event of Alexandria's annual George Washington Birthday celebration that culminates with the nation's original and largest Washington's Birthday parade on Monday, Feb. 18.
Blüprint Chocolatiers at 1001 King St. is new among this year's entrants, with a dessert featuring George Washington's signature on top of a chocolate truffle. "We're quite excited to be in the Cherry Challenge," said owner and chef Kim Gustafson. "We've made a 'Cherry Bounce' which was one of George Washington's favorite drinks and we turned it into a chocolate."
The dessert category is especially competitive this year. At 3141 Duke St., Glory Days manager José Bamon said, "This is our first year doing the Cherry Challenge and we're going to do a cherry cobbler made fresh, in house, with vanilla ice cream, whipped cream and fresh cherries."
Last year's winners included Taqueria el Poblano at 2400 Mt. Vernon Ave. for its cherry taco appetizer, Jackson 20 at 480 King St. for its cherry pork entrée, Dishes of India at 1510A Belle View Boulevard for dessert and Café 44 at 44 Canal Center Plaza for best cherry beverage.
The Cherry Challenge began on Sunday, Jan. 27 and ends on Feb. 10. Diners are given a ballot at each restaurant to rate the cherry dish or beverage they tasted. Completed ballots are deposited into a ballot box at each restaurant. Winning restaurants are invited to participate in the George Washington Birthday Parade.
"Judging is based on three criteria: taste, presentation, and creativity. Diners rate each item from one to three cherries for a maximum score of 9 on each ballot," said Cherry Challenge sponsor and Co-Chair Danny Smith, who is a Realtor with TTR Sotheby's. "We divide the total points for each dish by the number of ballots for that dish to get the average score. The highest average in each category wins."

Patrons are encouraged to Tweet photos and descriptions of the cherry items they tasted by using the hashtag "#GWCherryChallenge" or by posting them to the George Washington Birthday Celebration's Facebook page: https://www.facebook.com/GeorgeWashingtonsBirthdayCelebration/?fref=ts
This year's participating restaurants include: Alexandria Pastry, Bluprint Chocolatier, BRUT Wine Bar, Cafe 44, Catch on the Ave, Chadwick's, Cheesetique, Columbia Firehouse, Del Ray Café, Del Ray Pizzeria, Dishes of India, Evening Star Cafe, Foster's Grill, Glory Days Grill, Hard Times Café, Haute Dogs and Fries, Jackson 20, Junction Bakery, Kilwins, La Tasca, Landini Brothers, Lori's Table, Lost Dog Café Alexandria, Mason Social, Meggrolls, MoHo Kitchen & Cocktails, Murphy's Grand Irish Pub,
Myron Mixon's Pitmaster BBQ, Namaste King Street, Pines of Florence Alexandria, Pizzeria Paradiso, RedRocks Neapolitan Bistro, River Bend Bistro, Shooter McGee's, Sonoma Cellar, Sunday in Saigon, Taqueria Poblano, Tempo Restaurant, Tequila & Taco, The Italian Place, The People's Drug, T.J. Stones, Union Street Public House, Vaso's Kitchen, and The Warehouse.