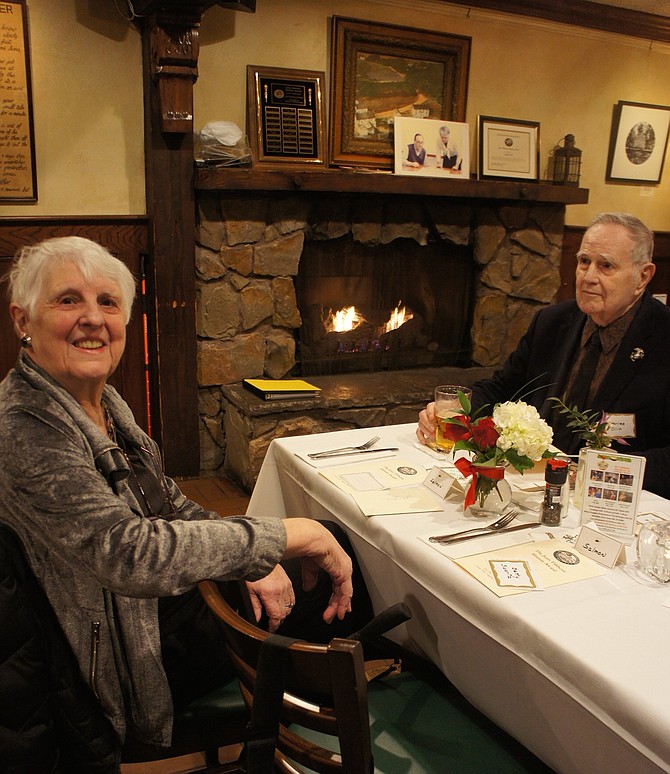 Family and friends gathered on Feb. 12 to honor Jacque Olin, this year's recipient of the Great Falls Historical Society's (GFHS) Jean Tibbetts Award. Named after the late Jean Tibbetts, a former president of the nonprofit organization dedicated to preserving the history of the area, the distinction is awarded annually to an individual who exhibits "outstanding contributions to the research, articulation, dissemination and preservation of life along the Potomac River corridor from McLean to west of Dranesville and south through Herndon."
Olin more than fits the criteria.
While serving as president of the GFHS from May 2000 to May 2002, she presented programs about the action and impact of the Civil War in Great Falls, and others, including the history of horses in the area and of the Potomac River Watershed.
Olin also formed a "Committee for Inventories of Great Falls Historical Sites," combining photos where possible, and historical writings. Great Falls Day, Old Schoolhouse Day, and The Grange and Community Days have all been on Olin's agenda as a resident of Great Falls since 1971, after living 8 years in neighboring McLean.
The Society also cites Olin's leadership as having been instrumental in securing a county curatorship for the Turner Farm House, a historic property in Great Falls that is currently being restored and will now be maintained with the care deserving of such an important piece of the area's historic landscape.
History and preservation are not foreign to Olin, who moved to the region in 1963 to take up a full-time position with the Smithsonian Institute, along with her husband, Charles. Olin's background is in Chemistry. She pioneered a method of archaeological analysis of items in the Smithsonian collection, founding the department of Archaeometry. She has authored numerous articles on this scientific methodology. Her love of the sciences continues today, as a Board member of the Analemma Society, the astronomy club founded by Charles that collaborated with the Fairfax County Park Authority to build the roll-top Observatory at the Turner Farm. The Analemma group offers night-sky viewing and educational programing.
The Tibbetts Award was presented to Olin, accompanied by her husband Charles and son, David, by GFHS's Karen Washburn after a dinner at The Old Brogue in Great Falls. Jan Schar, president of the society, gave the welcoming and closing remarks. Along with a certificate to commemorate her selection, Olin will receive a $200 stipend and her name will be etched on the plaque honoring Tibbetts Award winners for display in the Great Falls Library.
Olin continues to be committed to her belief that the Great Falls Historical Society must fulfill its role as educator, collector, and conservator of the fascinating heritage of Great Falls.