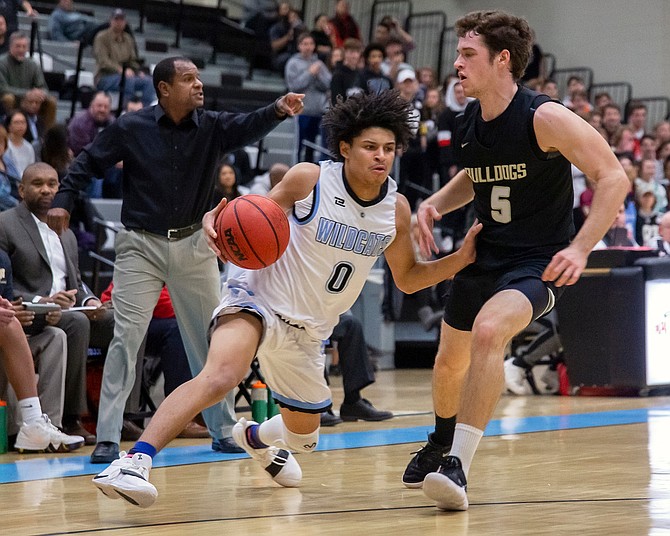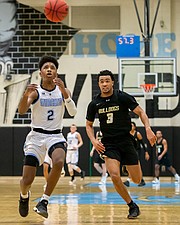 The Westfield Bulldogs and Centreville Wildcats basketball teams met for the third time this season on Feb. 12, the first two games going to the Wildcats, this game a conference semi final game with the winner advancing to the conference championship at Chantilly High School.
The first 4 minutes of the quarter belonged to the Wildcats, opening an early 7-0 advantage. However, with still 2:39 to play in the opening quarter Westfield was able to get the game to within a point 7-6. Moments later the Bulldogs were able to take an 8-7 lead. With a little more than a minute to play the Bulldogs increased that lead to 10-7. Centreville scored the final 5 point in the quarter giving them a 12-10 advantage.
In the second quarter Westfield scored 13 points including a Taylor Morin three pointer, while holding the Wildcats to just 6 points, giving the Bulldogs a halftime lead of 23-18.
Centreville overcame that deficit by scoring 14 points in the 3rd quarter while holding Westfield to 6 points. Twelve of the Wildcats points came via four successful three pointers. Chris Kuzemka had two of those three pointers while teammates Tayshawn Hogan and Lance Douglas had the other.
Facing a three-point deficit with a quarter to play, the Bulldogs would not quit. Sam Johnson would score 4 points in the quarter and teammate Trent Reimonenq would score 5 points including a three pointer as the Bulldogs were able to send the game into OT, tied at 41, after holding the Wildcats to just 9 points.
The Wildcats scored the first four points in OT, taking a 45-41 lead. Tahj Summey was fouled by Lance Douglas sending Summey to the line with 1:29 to play. Summey would nail both his free throws narrowing the lead to 45-43. Soon thereafter Connor Shanton hit two free throws after being fouled, putting Centreville back up 47-43. Trent Reimonenq hit his second three pointer of the game to pull Westfield to within a point with 50 seconds to play. Lance Douglas and John Hunter each added one free throw in the closing seconds, securing Centreville's bid to the conference championship game with a 49-46 win.
Westfield fell to 3-16 Centreville improved to 18-5. Westfield was led by Trent Reimonenq and Marshall reed's 10 points. Centreville was led by Bryce Douglas with 17 points, and Chris Kuzemka's 13.