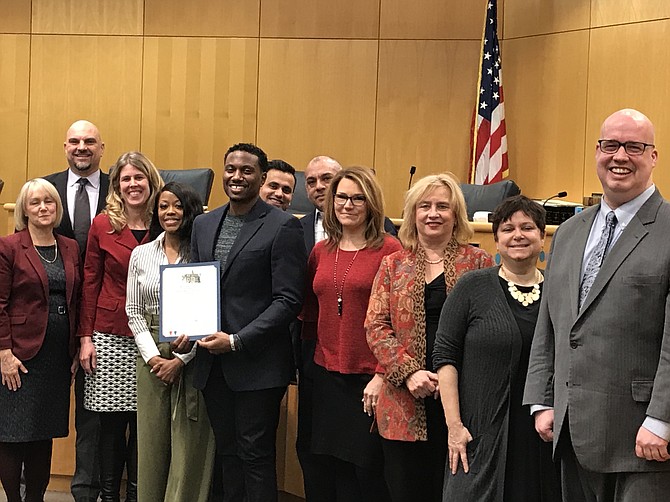 The Town of Herndon celebrated African American Month on Feb. 12, 2019, during the Town Council Meeting. The Mayor and Town Council proclaimed "African American History Month February 2019" to emphasize the importance of remembering the accomplishments and contributions by African Americans.

Commenting on recent events during the last few weeks in Virginia, Mayor Lisa C. Merkel said, "There is much work to do, and I hope there's a conversation that started. We are going to heal together and continue to uphold each other because I believe it was, as Mr. McKenna (town councilmember) said, 'We're all here for the same reasons, trying to make it a better place.'"
Dorian and Leah Baker, Lead Pastors of Life Ticket Church in Herndon, attended the town council meeting to accept the Proclamation read by Vice Mayor Sheila Olem.
"...We honor those who played a critical role in the creation of our nation through their labor, leadership, patriotism, intellect and artistic endeavors; and we acclaim the sacrifice, strength, accomplishments, and unyielding spirit of our nation's greatest civil rights leaders," read Olem.
Accepting the Proclamation, Dorian Baker said, "Last year… I felt like I came as a son of Virginia and tonight I really feel as I am a son of Herndon...Dates matter." Baker reminded the audience how in 1869 the Virginia General Assembly authorized the State Superintendent and State Board of Education, then Fairfax County, to start opening public schools, and how like other counties, there were two sets of schools in the county, one for white students and one for black students. Baker recounted that between 1860 and 1900 in Fairfax County one-room schools served African American children with enrollments as high as 408 students and up to 1150 students 1890 in the one-room schools.
Most importantly, Baker recalled how a set of 1881 Herndon Town Council minutes showed the council approved an expense of "$15.50 for wood that was furnished to the colored school," he said. The reason he shared these dates, Baker said, "Is because dates matter. And this date, tonight in 2019 will matter... The minutes will show that this Town Council and the people of Herndon honored the history and honored the people that have served and fought and worked to allow people like myself and my family and our church to be in a position that we are today.
"I'm humbled; I'm honored. This is truly not a reward I am receiving, but it is an acknowledgment of all the service and hearts of people who have come before us. So we say thank you, on behalf of my wife Leah and Life Ticket Church and the people of the Town of Herndon. Thank you."