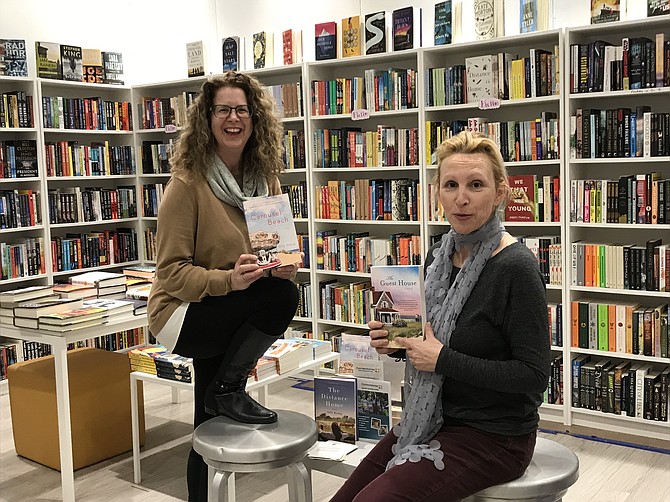 Scrawl Books in Reston Town Center is known for offering a wide selection of fiction and non-fiction books for adults and children. The store frequently hosts book clubs, book launches and author presentations. On Feb. 17, the indie bookstore hosted a very special post-Valentine's "Galentine's Party" to benefit Laurel Learning Center, operated by Cornerstones.
Book store owner, Rachel Woods said, "We've suggested a $10 donation at the door. We also have a Blind Date with a Book (event), complimentary copies provided to us by the publisher." Guests choose a wrapped book based solely on the genre written on the cover. "All monies collected help purchase books for the children at Cornerstones' Laurel Learning Center," Woods said.
Courtney Park Jamborsky, Cornerstones, Laurel Learning Center Director was on hand for the evening festivities. "Cornerstones, Laurel Learning Center (LLC) was invited to this event to support our child development center located at Lake Anne, Reston. LLC teaches, nurtures and loves 130 children, infants through twelve years of age, from low to moderate income families in the area. One of the greatest things we can do for the children is to give them a love of reading."
The two featured Maryland authors, Orly Konig of Gaithersburg, and Erika Marks of Hagerstown provided book lovers the opportunity to chat one on one with them about books, writing inspiration and life. Konig penned the five star Amazon reviewed novel, "Carousel Beach." In a synopsis of the fiction, Good Reads states, "…(it) is a tender and heartfelt novel that explores loss, the magic of childhood, and the possibility of second chances." Marks is the author of "The Guest House," a read Kirkus review says," With its smoothly written, languid style, the book explores young love, social strata and releasing the bonds of the past."
Book lover Peter Almquist of Arlington appeared pleased to be at the benefit. "Indie Bookstores such as Scrawl provide great opportunity to meet the authors." Earlier in the evening, Orly spoke about her writing experience. "For me, writing is the best therapy. I'm an introvert. I write to sort through what I am feeling. I can make my characters have experiences and expressive thoughts that I'd like to express."
Marks shared a different perspective, how she sets up her writing experience. She described herself as a "very ritualistic writer." "I make sure to turn on the Pandora music channel, only instrumental. I have a Golden Girl coaster, and I use the same coffee cup. I always work at the same little table. I cannot work in public," Marks said.
Chris Hauth of Reston looked over the books with his wife Shyamali and friends. "Wonderful books like these are exactly what Scrawl Books is known for supporting, and I'm excited to read both books," he said.