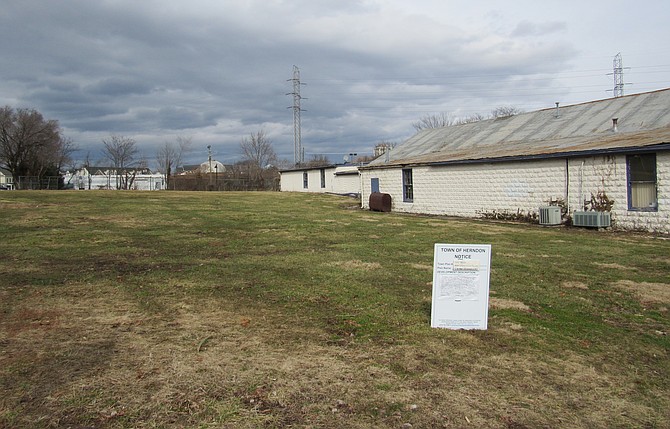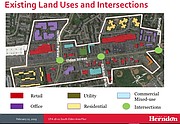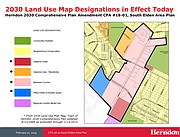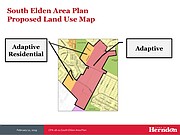 In a 35-second comment during the Feb. 12, 2019, Herndon Town Council Public Meeting, Bill Ashton, Town Manager shared what appeared to be the first solid update in the Herndon Downtown Redevelopment Project since the fall of 2018. Ashton hinted more information would be forthcoming. In a second and unrelated move, the Herndon Town Council approved Comprehensive Plan Amendment CPA #18-01 (South Elden Area Plan) as an amendment.
"The fourth revision of the (Herndon Downtown Redevelopment Project) site plan is back in staff hands," said Bill Ashton during the Comments from the Town Manager portion of the Feb. 12, 2019, Herndon Town Council Public Meeting. "This has been an iterative process. We have worked with Comstock over a period of time to refine the proposal and the site plan, and they've answered our comments moving forward. We will talk more about this as we move forward."

"Great to hear," responded Mayor Lisa C. Merkel.
Asked for a comment, Comstock replied, "Comstock remains very excited about the project. We've worked hard with the town improving the site plan."
THE HERNDON DOWNTOWN Redevelopment Project is a proposed 4.675-acre redevelopment of town-owned land through a public-private partnership with Comstock Herndon Venture L.C. According the Comprehensive Agreement signed Nov. 30, 2016, Herndon and Comstock intend Comstock develop and construct as a single project, a multi-level retail and residential complex comprising three buildings, a parking garage, a pedestrian plaza with the project anchored by an "Arts Center" described in the Agreement as a "±18,000 square foot cold, dark shell space" owned by Herndon.
Following the town's receipt of appeals from citizens aggrieved after the Herndon Heritage Preservation Review Board (HPRB) awarded three Certificates of Appropriateness to Comstock necessary for the project to move forward, the project momentarily back stepped the summer of 2018. On July 13, 2018, Comstock Herndon Venture, L.C. sent notice to David Stromberg, Zoning Administrator Town of Herndon of its "Withdrawal of Applications for Certificates of Appropriateness (COA) Heritage Preservation Review Board." Since then, Comstock continues to work with the town on approval of its site plan, now in revision number four according to Ashton, before it resubmits its application to HPRB for the needed COAs.
An online FAQ states, "You may visit the town's website at www.herndon-va.gov/downtown for updated information." On Feb. 15, 2019, the website provided what appeared to be the first Site Plan, as it is dated, 04/27/18. Comstock's Architectural Drawings shown on the site are dated May 18, 2018, and FAQs on the Herndon Downtown Redevelopment Project appear to be the same as released when Comstock withdrew its COAs. In reply to an inquiry about "updated information," a town spokesperson replied on Feb. 15, "The website is in process of being updated."
The Agenda for the Town Council Work Session, Feb. 19, 2019, states: "Update on Downtown Redevelopment (Discussion by the Town Manager)."
During the Herndon Town Council Meeting on Feb. 12, 2019, Mayor Merkel and the six councilmembers considered a resolution to adopt Comprehensive Plan, Amendment CPA #18-01, South Elden Area Plan. A week and a half earlier, on Feb. 1, the town held "Community Meeting for Business, Property Owners on South Elden Area Plan." The plan is created as a future development policy for the area.
Elden Street is the town's main corridor connecting with Dulles Toll Road to the northwest and Reston to the southeast. According to the town, the South Elden Area Plan covers approximately 76 acres and 29 parcels and is one mile and one half-mile radii at Herndon area Metrorail stations. Before the special meeting on Feb. 1, Dana E. Heiberg, Senior Planner Department of Community Development, said, "We try to keep the door open every step of the way through the community-driven planning process."
During the presentation, Elizabeth M. Gilleran, AICP, Director of Community Development Town of Herndon told the assembled crowd, "This is a guide for the Planning Commission and the Town Council in the future when proposals come in, a primary guide for what is appropriate and is not appropriate." Gilleran spoke about the future steps required before plan implementation involving public hearings and administrative review according to drafting and adopting of zoning text amendments, submission of applicant-initiated zoning map amendments, site plans, building permits and such.
Walter Shorter, HOA President of Four Seasons, a small residential community within the plan area urged the town that as it goes forward with the plan, Four Seasons be included in processes. "We are the buffer to Metro; we want to protect our interests and value...to make sure about density...our biggest concern is traffic near KinderCare," he said.
Gilleran described the five tiers or areas in the plan- transitional, urban residential, commercial, neighborhood mixed-use and gateway. In greater detail, she said Tier 2 would have a density of 18-20 units per acre, with townhouses and 2 over 2 stacked townhouse developments.
Arthur Nachman, Senior Commercial Broker at Long and Foster Commercial Division, Long and Foster Companies, inquired about the width of the stacked townhomes. "Sixteen feet?" asked Nachman. Gilleran said, "It could be less than that...I'm trying to remember if it went down lower." Spreading out his arms, Nachman said, "That's you and I standing up with our arms like this, and that's it." Gilleran replied, "That is where we will be looking at the zoning language.
Kofi Annan, president of the Fairfax County NAACP, asked about affordable housing. Gilleran said the plan does not provide a significant incentive to do that.
Nachman urged the town to develop the plan in greater detail before adopting it. "You have to lay everything out ahead of time before you can expect them (developers) to come in," he said. "I think there needs to be a higher level of certainty before this plan comes to the table." Nachman advocated for tax incentives, density improvements and a financing component.
"If you truly want to create a workable document where sticks, bricks and dirt are turned, you need to create a tax incentive, as well as a density improvement in order to get this done...(And) there needs to be a financing component placed on this. When someone asks how much should the town do to get development, my answer is, absolutely everything, all the time because we have these decaying properties and they are spreading…" said Nachman.
QUESTIONED by an attendee about the high traffic in the area and Herndon Parkway now and the impact of potentially increased traffic, Gilleran said the most significant impact from traffic was less about changes within Herndon and more about the development outside the town limits. Gilleran said the South Elden Area Plan aimed to make the area a walkable, pedestrian-friendly built environment with a variety of multi-modality options. She acknowledged that for current and future residents, traffic would more than likely increase; however, South Elden would become "a walkable community and a transit-friendly community, so the vehicle trips (by residents) will be lower."
At the Feb. 12, Herndon Town Council Meeting, the council approved Comprehensive Plan Amendment CPA #18-01 for adoption as an amendment to the Town of Herndon 2030 Comprehensive Plan adopted Aug. 12, 2008, as amended.
To view CPA #18-01, South Elden, Resolution (Approved), visit herndon-va.gov, go to Agendas, Minutes & Webcasts; Archived Videos-Town Council Public Session 02/12/19 Agenda