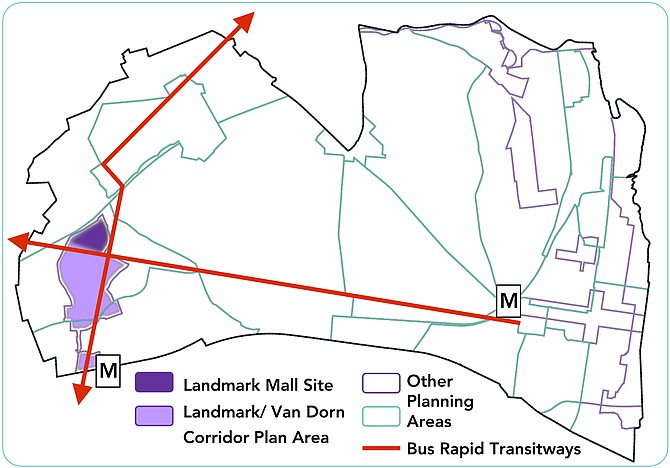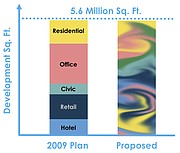 Citizens have one more opportunity to weigh in on Landmark Mall redevelopment plans, before the plans are finalized and go to public hearings this spring.
City staff will host a fourth and final workshop next Wednesday, Feb. 27, for the community and Eisenhower West-Landmark Van Dorn Advisory Group to give input. Staff will finalize project plans through March and send them to Planning Commission and City Council public hearings on April 2 and April 13. Construction would take place over the next 5-20 years.
The Landmark Mall, comprising 51 acres in the city's West End, represents one of the largest and potentially most impactful redevelopments on the city's radar. It's a key element of the city's Landmark/Van Dorn Corridor Plan, which aims "to transform the present suburban development pattern into a quality mixed-use urban community." Current suburban characteristics include "automobile-dominated corridors" and "disconnected commercial, multi-family, and industrial uses."
"This is a real opportunity for us to stitch this [mall site] back into the fabric of the neighborhoods that surround it," said planning and zoning's Jeff Farner. "How do we transition this site from car-oriented and surface parking lots to retail, walkable streets, and accessibility? … That means accessibility by cars, but also … by transit, pedestrian, bikes, and being able to cross the street … in a way that is safe and convenient."
The evolving plan includes up to 5.6 million square feet of new use development, including buildings up to 25 stories, mixing residential over and amongst commercials uses. A minimum 20 percent of new development would go toward commercial uses, such as office, hotel, retail, entertainment. The plan would add several new streets, dividing the mall site into smaller, more pedestrian-friendly blocks.
From the city government's perspective, the new development would "pay for itself," said Farner. For every dollar the city spends on associated services (including schools), new multi-family buildings add $1.50 and offices add $7.33 to the city's General Fund coffers, according to a city staff presentation.
The redeveloped mall site would also serve as a strategic transit hub, sitting at the crossroads of the city's envisioned Duke Street and West End Transitways. These transitways — dedicated "bus rapid transit" lanes between the Van Dorn and King Street Metro stations and the Pentagon — are important to the city's long-term planning efforts.
In community workshops to date, residents have expressed concerns typical of any proposed redevelopment, including potential impacts of increased population density on traffic and school enrollment.
The proposed redevelopment would add 85-105 students to James Polk Elementary and Francis Hammond Middle School, according to city staff's forecasts. The city, school system and developer are in the process of determining whether the site might include a new school.
There's also hope that, in a town frequently describing itself as "a city of neighborhoods," the redeveloped site could give the West End something unique to call its own.
"The challenge we have in the West End is the lack of identity. Old Town is Old Town. … Del Ray is Del Ray. … If you live in the West End, what is our identity?" said one workshop participant. A new site with "signature buildings" could help establish that identity.
Producing a range of housing affordability is also a concern, though more of the city government than of residents who've participated in the workshops so far. Participating residents didn't push back against requiring certain percentages of affordable housing units. But, at the first meeting on Nov. 14, they ranked it last out of six priority topics.
The city's adopted housing strategy envisions including affordable housing "in transit-rich and amenity-rich areas," said city staffer Brandi Collins. She says studies show households in car-dependent areas spend 25 percent of take-home income on transportation, compared to 9 percent in "transit-rich and walkable" areas. The latter "frees up money for … low- or moderate-income [households] to spend on more important things than traveling to work" — for example, "saving up for college for their children, … paying for daycare, … bills, … unexpected expenses."
"Our signature in the West End is our diversity in our community," said then Councilman-elect Mohamed "Mo" Seifeldein at the kickoff community meeting in November. "I would hate for us to lose what makes us rich as a city and a progressive city by having development that overlooks those people. … I'd like to see more community support for affordable housing."
For more, visit www.alexandriava.gov/LandmarkVanDorn.