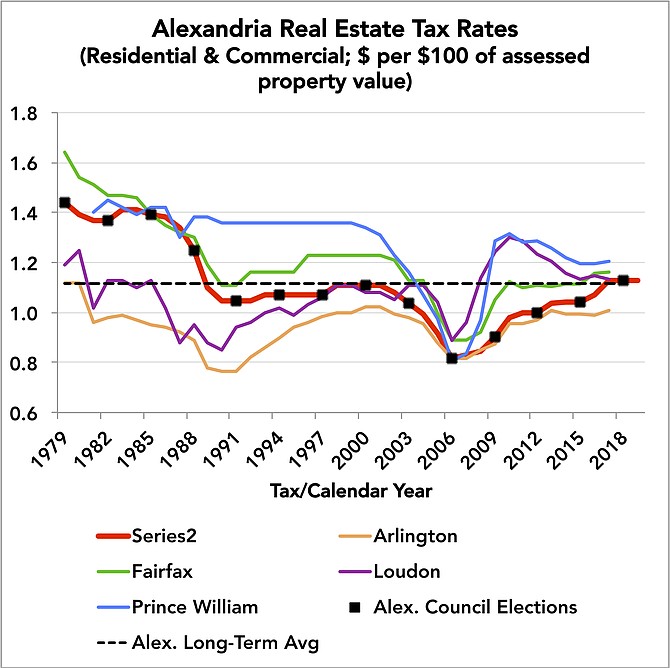 City Manager Mark Jinks proposed his annual budget on Tuesday, Feb. 19, emphasizing efficient use of public resources and no tax increase, despite relatively sluggish economic and tax base growth.
City Council will consider the proposal through the spring, make adjustments, and adopt a final budget on Wednesday, May 1.
"More than ever, communities must make difficult choices about how to allocate limited resources. Faced with slow economic growth in the region, Alexandria is no exception. … The economic challenge we face is that our tax base is growing too slowly to generate the revenue needed to sustain core services in the future. City government has engaged in significant belt-tightening over the last decade," said Jinks. However, "as a result of fiscal direction by City Council and prudent financial management and innovative thinking by staff, this is the second year in a row that my proposed budget includes no tax rate increases, no major service reductions, full funding for the superintendent's request for the Alexandria City Public Schools operating budget, and full funding of the School Board's adopted 10-year capital plan."
Jinks' proposal includes a $761 million FY 2020 operating budget (up $13 million over last year), and a $1.6 billion FY 2020-2029 Capital Improvement Program (down $575 from last year). These include full funding of the public schools' $232 million operating and $479 million 10-year capital requests. Jinks thanked Superintendent Dr. Gregory Hutchings, saying the city's ability to fund the schools' requests "is possible because [Hutchings] and his team crafted a responsible budget."
This year's steep Capital Improvement Program shrinkage "should not suggest a reduction in community capital investments," said Jinks. Rather, it "primarily reflects the transfer of ownership of Alexandria's four combined sewer outfalls and the related planned sewer tunneling megaprojects to Alexandria Renew Enterprises," an independent public utility. Users will still pay for the state-mandated sewer upgrades through their AlexRenew bills.
Jinks proposed maintaining the real property tax rate at $1.13 per $100 of assessed value. However, taxpayers' bills will still increase, due to an rise in 2019 property assessments. Overall, the tax base increased by about $1.3 billion this year, reflecting a 2-percent increase in residential assessments and nearly a 4-percent increase in commercial assessments.
According to a city press release last week: "The average assessment for all residential property types, including single family homes, townhomes, and condominiums, increased 1.91 percent, to $555,002. The average single-family home value increased 1.36 percent, to $764,596. The average condominium value increased by 3.3 percent, to $329,216."
That translates to an annual tax bill increase of about $118 for the average homeowner, said Jinks. He proposed maintaining stormwater and sewer fees at current levels, but would raise the trash/recycling fee and DASH bus fares.
Using a new method of reviewing city services — called "priority based budgeting" — city departments identified $6 million in operating savings and streamlining of certain existing revenue streams.
"Of all net new revenue growth, two-thirds is devoted to the [public school system] and one-third to Metro," said Jinks.
He highlighted his budget's pursuit of certain "progressive goals," under the headings of making the city more equitable, smarter and greener.
Equitable investments include adding a new "racial and social equity officer" position to the city manager's staff. This person would help "develop departmental equity plans, review city recruitment and hiring practices, expand outreach to underrepresented groups, implement nationally-recognized best practices, and build bridges to those in our community whose interaction with government is limited," said Jinks.
The new racial and social equity officer represents one of a net 26.5 new full-time equivalent positions to the city's workforce this year, bringing the total to 2,621. Though that still represents a net reduction of 29 full-time equivalent city positions since FY 2009. Jinks would also add funding for three new staff positions at the Alexandria Economic Development Partnership, a separate by publicly funded group. These positions would help "increase proactive business recruitment" to the city, especially "to build on the success of the Amazon/Virginia Tech announcement," he said.
On average, city employee pay will go up about 3 percent. Health insurance premiums will not go up for employees participating in UnitedHealthcare plans. Premiums will go up 11 percent on average for employees participating in Kaiser Permanente plans. Pending a pay competitiveness study, currently underway, certain positions may get a heftier pay bump. But on the whole, "it appears an overall pay scale adjustment will not be needed," said Jinks.
Smart city investments would include transitioning the city's Call.Click.Connect customer service system to a telephone-based 3-1-1 system; implementing a new system for electronic code permit applications and plan submissions; and constructing in FY 2020 a city-owned fiber optic broadband network, interconnecting municipal facilities. Among other things, the network would support new, adaptive traffic sensors and signals aimed at streamlining car traffic.
Green investments would include transitioning the city's vehicle fleet, including DASH buses, to electric and hybrid models; adding "energy audits" to municipal facility assessments; increasing the city's goal for green building standards in municipal facilities; and keeping plans on track for the new Potomac Yard Metro station, which will remove an estimated 5,000 cars per day from Alexandria roadways.
Jinks would also increase the city's operating contribution to Metro by over a quarter, to $4 million.
The budget public hearing will take place on Monday, March 11. A second public hearing, following council-proposed adjustments, and including setting the maximum tax rate, will take place on Saturday, April 13.
For more, including the schedule for council budget work sessions, which are open to the public, visit www.alexandriava.gov/Budget.