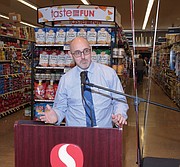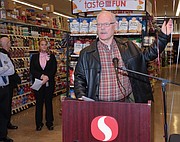 Store Director Mike Stuckwisch was pleased to welcome customers to the official reopening of the Great Falls Safeway at 9881 Georgetown Pike on Feb. 16 with a ribbon-cutting ceremony, live music by the New Line Brass Band, plenty of snacks and even some free gifts to thank the community for their patience during the significant remodel.
A number of senior members of the Safeway company were on hand to mark the occasion and highlight the numerous enhancements to the grocery store that has been a staple in the Great Falls village for years. Dranesville District Supervisor John Foust and Great Falls Citizens Association President Bill Canis also stopped by, each offering remarks welcoming the improved offerings to area shoppers.
"We are pleased to share renovations that enhance our customers' shopping experience," said Tom Lofland, President of Safeway's Easter Division, in a statement. "Our Great Falls customers are sure to enjoy the newly renovated store."
More space and more selection have been added to a number of departments.
The meat and seafood department now offers a "service meat case" where shoppers can purchase custom-cut meats from the Safeway butchers and find an increased selection of natural and organic meats. The same goes for the seafood offerings, with an expanded selection of wild, natural and organic seafood choices.
The deli has added Italian specialty meats and expanded their cheese selection and now offers more prepared foods, including hot items, salads and sandwiches. Also on offer are Dietz and Watson Original antibiotic-free meats and cheeses.
The enhancements continue into the produce, bakery, and floral departments with new fixtures, refrigerated units and displays and more in-store made items.
Produce increases fresh-cut, in-store fruits and vegetables, refrigerated juices and kombucha. The bakery adds a new display case featuring gourmet single cupcakes and there is a grab-and-go dessert case with signature cakes. There's even a new cream island case with a large assortment of single serve desserts, gourmet cream goods and fresh fruit desserts. The bakers also now offer a wide assortment of artisan dinner breads in another new case.
More home décor and home goods enhance the floral department.
In the renovation, more space has been dedicated to the beer and wine department where shoppers will find more premium wines and a larger selection of local craft beers.
Safeway has long been a partner with community nonprofit organizations, and they did not disappoint at the re-opening event, presenting donations to Best Buddies Langley and the Shepherd Center of Great Falls.
Stuckwisch and team are excited to welcome their neighbors to the enhanced Safeway from 5 a.m. until 11 p.m. seven days a week with additional self-checkouts and services for time-saving and convenience.