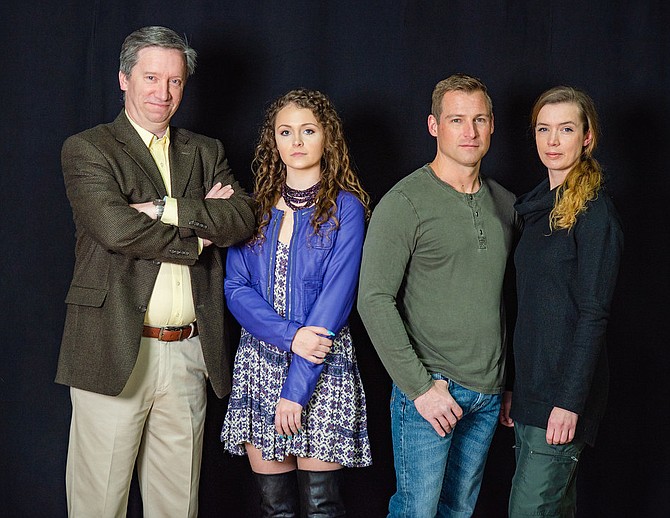 "'Time Stands Still' is truly a play that could have been ripped from today's headlines, covering the full range of emotions from love to betrayal, pride to envy, and commitment to disillusion," said Adam Konowe who directs the play. "It deserves to be produced and seen."
Written by Donald Margulies, "Time Stands Still" was nominated for two Tony Awards, including Best Play. The play examines the lives and relationship of one couple making a living out of documenting the horrors of war. When Sarah Goodwin (played by Jane Steffan), a photojournalist, returns from covering the Iraq War after being injured by a roadside bomb, her reporter boyfriend James Dodd (played by Greg Lang) is racked by guilt. He had left Sarah alone in Iraq.
Both Sarah and James are bruised and exhausted. Together they explore whether it is even possible for two people who are used to living in dangerous conditions to find a normal life together. They are joined by Richard Ehrlich (portrayed by Todd Hulse) and Mandy Bloom (portrayed by Alex Sands).
For Konowe, "'Time Stands Still' reflects the complexity of life at home, at work and among friends. It demonstrates that what fulfills us in one sense can be destructive elsewhere. It reinforces that truth – portrayed here through journalism – is worth fighting for and serves society well, even when the news it conveys is difficult to comprehend or appreciate."
One of the most interesting parts about the character of James is "the choices and actions he makes in an attempt to protect the one he loves and, his inability to correlate these with the downhill spiral his life is taking. He gives us a glimpse into the life of someone living with PTSD and how this tragic disorder can severely impact the way we live our lives" said Greg Lang.
According to Jane Steffan, her character "Sarah is the most complex character I have ever played. She has many walls she knows about and others she discovers along the way. She's not sure she knows who she is anymore."

Inviting audiences to the RCP's "Time Stands Still" Todd Hulse said that playwright "Donald Marguiles doesn't set out to provide answers in his plays. Rather, he is a master at exploring the nature of relationships, both personal and societal. He challenges audiences to consider bigger issues that both unite and divide us, without preaching."
Where and When
Reston Community Players present "Time Stands Still" at Reston Community Center, CenterStage, 2310 Colts Neck Road, Hunters Woods, Reston. Performances March 1 to 16, 2019. March 1, 2, 8, 9, 15, and 16, 2019 at 8 p.m. March 10 at 2 p.m. Tickets: $28 Adults (19 – 64), $24 Seniors (65 and older), and $24 Students (18 and younger). Call Reston Community Center CenterStage Box office at 703-476-4500 or visit www.restonplayers.org. Note: CenterStage is accessible and offers listening devices for the hearing impaired.