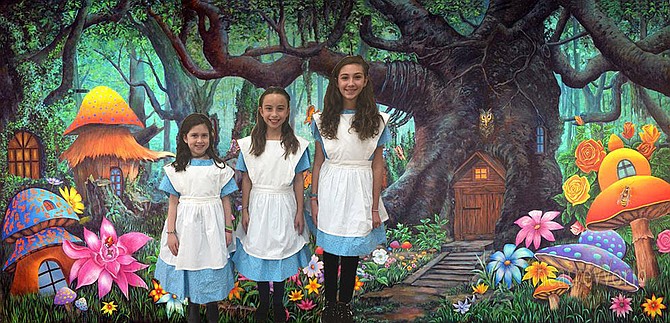 Travel down the rabbit hole and join Lewis Carroll's famous heroine, Alice in Wonderland, as she comes to life in Bravo Productions' theatrical adaptation of the classic Disney film. The show features a cast of 23 young performers. Written in 1865, the story tells the adventures of Alice, who falls down into a land of fantasy, populated by the Cheshire Cat, Blue Caterpillar, White Rabbit, March Hare, DorMouse and many other characters. She attends a Mad Tea Party and meets the King and Queen of Hearts.
This theatrical presentation allows three Bravo veterans to play Alice in three different sizes. The students portraying Alice are between the ages of 8 and 13 and they interact with a talented cast of 20 in adventures that encourage audience members to explore their imagination.
"Alice in Wonderland, Jr." will be presented on Saturday, Jan. 19, at 4 p.m. and 7:30 p.m. and Sunday, Jan. 20, at 1 p.m. and 4 p.m. at the Randolph Road Theater, 4010 Randolph Road, Silver Spring. Tickets can be purchased for $23 at www.showtix4u.com.