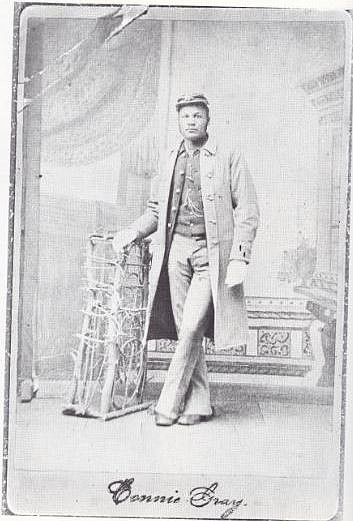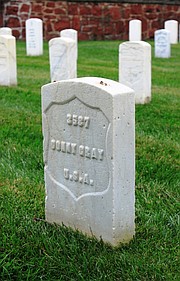 On Tuesday, Oct. 1, 1907, it was a chilly day with light northwest winds when Mrs. Sarah D. Gray was preparing herself for work; she was a teacher at Hallowell School for colored girls in Alexandria. Unknown to Sarah, she would finally find out what happened to her military husband whom she had not heard from since he left for the Philippines on Aug. 10, 1906. Sometime during that chilly day on Oct. 1, Sarah received a telegram from the War Department that her husband, Conny Gray had died on Sept. 27, 1907 in Manila. No explanation was given for his death.
During April – August 1898, Private Conny (Connie) Gray participated in the Spanish American War with the USCT Company H, 25th Army Infantry. During the Spanish-American War, he served in Florida, Cuba and Puerto Rico. He first enlisted in the military in the early 1880s when the 25th USCT was transferred to the northern Great Plains, operating mostly in Dakota Territory, Montana and Minnesota. Part of the 25th took part in the last major Indian campaign between 1890 and 1891. Also several companies of the 25th were deployed to break the Northern Pacific Railroad strike of 1894. Conny enjoyed his military career. He reenlisted in the military every three years until his death.
His last enlistment was in Manila, Philippines. He was a private in Company H, 25th USCT Army Infantry. He traveled from Alexandria to San Francisco where he sailed to the Philippines.
In reviewing Private Gray's official military records, one would notice several discrepancies in his death. Based on his official military records, he died April 27, 1907. His wife, Sarah was notified five-months later that her husband died on Sept. 27, 1907. Unfortunately Private Gray's family never knew what caused his death nor did they know the actual date of his death. His remains were brought back to Alexandria. His wife, his 8-year old daughter, Anna Gray, his siblings and friends gathered at Roberts Chapel Methodist Church (currently called Roberts Memorial United Methodist Church) to pay their last respects. Private Conny Gray is buried at the Alexandria National Cemetery.
Conny Gray was born to Martha and John Gray in Alexandria in 1863. He married Sarah Jane Derrick on Nov. 23, 1898. He was in the military and she was a school teacher. A year after Conny and Sarah's marriage, they had a daughter, Anna. In 1900, he and his family lived in the household of his mother-in-law at 610 Gibbon St. It was from this house that he left on his way to San Francisco to the Philippines. After the death of Conny, Sarah filed for her widow pension. In 1910, Sarah purchased a house at 811 Duke St. where she, her daughter and her sister, Rachel lived.
In 1923, Sarah contracted pneumonia. She died on May 21, 1923 16 years after her beloved husband; her sister joined her eight years later. Sarah's daughter, Anna, married Charles Boyd Nickens in 1934. Anna and her husband lived in the house that her mother left her until she died April 15, 1995.
Although Conny Gray only had one child, he had siblings who had children. Today, Conny has many 2nd and 3rd great-grandnephews and nieces that live in Alexandria and in the Washington, D.C. area. Unfortunately, Conny Gray's contributions in the Spanish American War has not been recognized for over 100 years. Now we know about his contributions to his country and to his beloved city. We will never forget that one of our own gave his life for his country. Private Conny Gray earned the right to be included among other veterans in Alexandria as a veteran of the Spanish-American War.
Char McCargo Bah is a freelance writer, independent historian, genealogist and a Living Legend of Alexandria. Visit her blog at http://www.theotheralexandria.com for more about "The Other Alexandria."