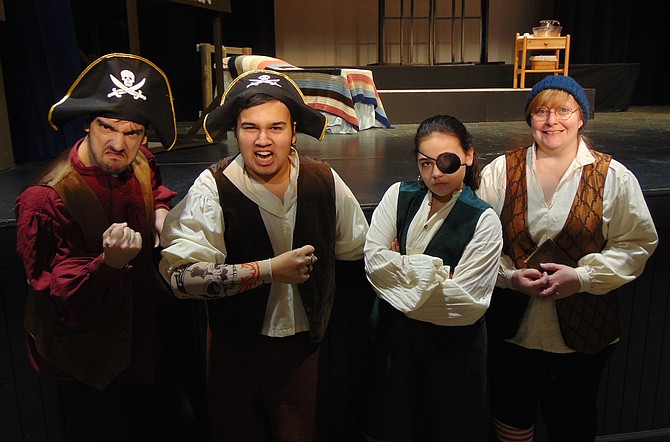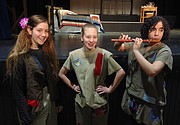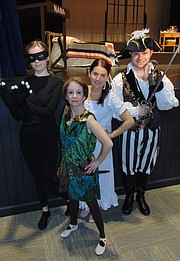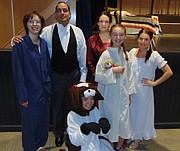 With 17 cast members, the Vienna Theatre Company will present J.M. Barrie's children's classic, "Peter Pan," from Jan. 18 to Feb. 3, 2019 at the Vienna Community Center.
When Peter Pan who is played by a girl actress, loses her shadow, the headstrong Wendy helps her to reattach it. In return, Wendy and her brothers are invited to Neverland, where Tinkerbell, the fairy, the Lost Ones, and the vengeful Captain Hook await. Magic and make-believe ensue.
According to Jessie Roberts, director and script adaptor from Great Falls: "Because we have changed the gender of the character Peter to be a girl, it becomes not so much about a boy who doesn't want to grow up as about an empowered young woman. She still has issues but she is a powerful young woman. Yes, it's the J.M. Barrie script but it's adapted to the 20th century sensibility."
She added: "We were trying to achieve a show that would appeal to both adults and children. It should awaken memories in adults and create them in children. It's a wonderful story about friendship, loyalty, good winning out over evil, and those are values we need to be aware of today. There's a lot of love in the show. And it's funny and there's some very funny moments."
McLean resident Carolyn Heier, who's in her 40s, plays the role of Peter Pan.
"Well, Peter is very invested in her own independence and remaining young and having fun. She likes to think she doesn't need others but by the end of the play she realizes she could benefit from it but she becomes so entrenched in her way of thinking and it's almost like it's too late to change.
"There's two sides to Peter: The tough independent woman who doesn't think she needs anyone and then Peter who longs for closeness," Heier said.
As far as audience takeaways, she said: "I hope they take away the joy and happiness of Peter Pan. I hope they take away the bonds between friends and family and that can be strong, that girls can be strong and independent while also being connected to others."
Amanda Marra, 31, of Arlington, plays the role of Wendy. "Wendy Darling is the daughter of Mr. and Mrs. Darling. Her brothers are John and Michael. They live in England. She's a very proper girl who has dreams of experiencing life beyond their little bubble. She has a great sense of responsibility at home so the opportunity to go to Neverland is attractive to her," she said.
She added: "I tried to connect Wendy's feelings of home to my own thinking back to when I was a child. I tried to connect that feeling of wanting to start your own life. I think what really drew me to this character was her great sense of responsibility at home and freedom that traveling to Neverland would give her. For the first time in her life she's allowed to let go and have fun. While some of Neverland might be scary, it's still very exciting for her; it's an adventure."
Lindsey Newberg, 11, of Reston plays the role of Michael. "Michael is Wendy's little brother. He is very excited to go off to Neverland and he loves the Lost Ones and Peter Pan and all the adventures they have. He loves fighting the pirates and he sort of forgets his real life in London while he's in Neverland. But at the end, he's excited to see his parents," she said.
As far as challenges, she said: "We had to master the British accent which was very hard because I had never done the British accent before. We rehearsed a lot and listened to Podcasts to learn the British accent and eventually we mastered it."
When & Where
The Vienna Theatre Company will present J.M. Barrie's "Peter Pan," from Jan. 18 to Feb. 3, 2019. Tickets are $14. Show times are 8 p.m. on Jan. 18, 19, 25, 26, and Feb 1 and 2; and 2 p.m. on Jan. 27, and Feb. 2 and 3. The venue is located at the Vienna Community Center, 120 Cherry Street, S.E., Vienna, VA 22180. Visit the website: http://www.viennatheatrecompany.org.