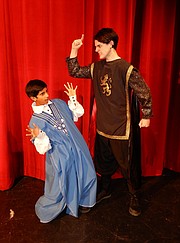 The children's show, "Merry Men," is a funny twist on the classic tale of "Robin Hood." And in two weeks, it'll be presented by the theater students of Chantilly High.
The curtain rises Friday, Jan. 18, at 7 p.m.; Saturday, Jan. 19, at 2 and 7 p.m.; and Sunday, Jan. 20, at 2 p.m. Tickets are $5 at the door or via www.chantillyhsdrama.com.
It's set in 1100s England, where Maid Marian is unhappy about being forced to marry the evil Sheriff of Nottingham. So she and her ladies in waiting devise a plan to make it seem like Sherwood Forest is overrun with bandits and the sheriff is bad at his job. As a result, they hope the prince will break off the betrothal.
The show is double-cast, with 60 actors plus 20 crew members, and Director Andy Shaw says rehearsals are going really well. "It's a fun show with a great group of kids," he said. "They've been a joy to work with, and each cast has come up with their own jokes and bits. So if people see two of our shows, they'll see different views."
Scenes take place in Sherwood Forest and a castle, with set pieces spinning around to illustrate various locations. And, said Shaw, "The costumes are really cool. We've got everything from peasant robes to fancy, noble gowns to down-and-dirty, bandit gear."
Calling the play "a ton of fun," he said, "It's full of big, larger-than-life characters, lots of slapstick comedy and funny jokes. It's fast-paced, and even has some sword fighting; there's really something for everyone."
Freshman Alyssa Dausch portrays Maid Marian. "She's independent, knows what she wants to do and doesn't want to follow what anyone else tells her," said Dausch. "She wants to live her own life. She's confident, but also kind, if she wants to be; she has a good heart."
Dausch enjoys portraying a strong, independent woman. But, she added, "I also like playing her crazy parts when she's 'being' Robin Hood and tries to portray his manly qualities and speak in a deep voice."
She said the audience will like seeing such a confident main character. "The moral of the story is, just because things could be worse, doesn't mean we shouldn't try to make things better," said Dausch. "It also says that you can be who you want to be. The show has powerful moments, but also lots of physical comedy that'll make kids laugh, plus an empowering message."
Also playing Maid Marian is sophomore Kaitlin Molloy. "She's cunning and clever and willing to work for what she wants," said Molloy. "She's outgoing and part of nobility, so she knows how to interact with people. And she's willing to sacrifice herself for the good of others."
Enjoying this role, too, Molloy said, "Her personality has many sides to explore as she considers 'becoming' another person. She has lots of quirks, is very opinionated and glosses over other people's opinions." Molloy said children's shows are good ways to interact with the audience and learn the basics of theater while having fun. "You have to be high-energy, enunciate well and make bigger voices and movements, plus have more physicality," she said.
In this play, said Molloy, "There's never a dull moment; there's always something happening onstage. It'll be fun for the audience to see all these characters they know, but in a different way. It's a modern interpretation of the story, with lots of humor."
Senior Matthew Burkholder and sophomore Aidan Ramee portray the Sheriff of Nottingham. "He's a hyperactive, James Bond villain, with a bit of Scar from 'The Lion King' and lots of Dr. Evil from 'Austin Powers,'" said Burkholder. "He's conniving and is always thinking up a clever plan or menacing scheme."
Burkholder likes playing a character with no inhibitions. "I get to say what I feel and be spontaneous and over-the-top, jumping around, screaming and making wild hand motions in the air," he said. "The sheriff is close to being villainous, but also so goofy and cartoonish that you just have to kind of love him."
He enjoys being in a children's show because, "If kids love it, they'll laugh hysterically, and that's energizing." The play, itself, also bounces off the walls, he said, and "Similar to a Disney movie, there are jokes for parents, too."
Ramee described the sheriff as "mean and proud of it. He yells a lot and mainly speaks in a scruffy voice. And he's bossy; everything has to go his way. But later on, he gets in touch with emotions he's kept bottled up. So he does have a soft spot. I've always wanted to play a villain, and he's really important to the story and is its conflict."
In a children's show, said Ramee, "I like how big you can go with your movements, speech and facial expressions. Everything has to be heightened to catch kids' attention. They'll like seeing the actors running up the aisles and their chemistry onstage, and they'll enjoy what people have done with their characters."
Playing the minstrel who leads the ensemble is senior Riley Fiening. "I welcome everyone to the show and try to keep the ensemble in order because they get kind of crazy," she said. "Half are townspeople and half are the militia. During scene changes, they'll start fighting and people will see everything going well."
"The show is goofy, with slapstick humor," she continued. "There are lots of funny moments, and it'll appeal to all ages, not just kids."