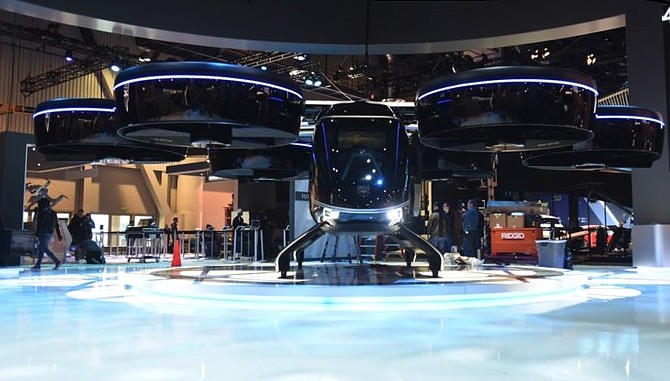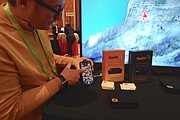 "AI is opening up a lot of possibilities in accessible technology." —Alexandria resident Douglas Goist
If bigger is better, then CES 2019 is the place to be. Taking place Jan. 8-11 in Las Vegas, the world's largest technology show debuted a 219-inch MicroLED display from Samsung, the diminutive by comparison 98-inch 8k TV from Sony, and a flexible OLED screen from LG.
Early show buzz centered around concept vehicles like the Hyundai Elevate, a concept "walking car" that uses articulated legs to navigate off road, and the Bell Nexus, a concept design for a hybrid air taxi, while the battle between the artificial intelligence devices from Amazon and Google heated up.
"AI is opening up a lot of possibilities in accessible technology, "said Alexandria resident Douglas Goist. Goist, who is blind, served for many years on the city's Commission on Persons With Disabilities, and uses technology to navigate a variety of daily tasks.
"From screen readers to artificial intelligence and smartphone software, technology will continue to improve the lives of those with disabilities," he added. "I just arrived but am excited to see what is new in accessibility technology this year."
According to Gary Shapiro, president and CEO of the Arlington-based Consumer Technology Association, which produces CES, the technology trends to watch this year include AI, or artificial intelligence, Smart Home technology, digital health, Esports and sports technology, and Smart Cities resilience.
"The U.S. is beginning a transformation that will create lucrative business opportunities for many," Shapiro said in his opening remarks. "5G is coming, which will allow a fast data stream and incentivize new services that cross the borders of all tech sectors."
Shapiro noted that 5G, which is expected to become available in late 2019 and early 2020, will be the backbone for the smart city infrastructure that will help cities be more resilient in coping with unforeseen disasters.
"5G will also fuel the connected home, transform digital healthcare and create immersive experiences for global sports fans," he added.
Google Assistant unveiled its new Interpreter Mode, which translates live voices into different languages with a degree of accuracy that surpasses Google Translate. And while Blackberry may be out when it some to smartphone devices, it is leading the way in security and will license its Blackberry Secure technology to smart device manufacturers in a bid to make smart speakers like Google Home and Amazon Echo, more secure.
"There's no place like CES to see what the future of technology looks like," Goist said. "It brings to reality previously unimagined possibilities that will improve the lives of people around the world."