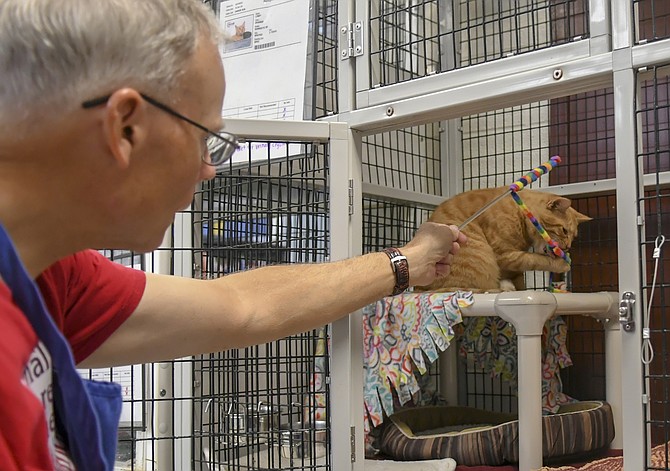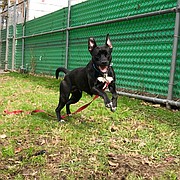 If you haven't committed to a New Year's resolution yet, the Animal Welfare League of Alexandria's furry, feathered and finned residents have some suggestions for you. To care for more than 2,000 animals a year, including wildlife in need, the Animal Welfare League of Alexandria (AWLA) depends on the support of Alexandria's citizens every day. They contribute half of the shelter budget, all kinds of supplies and thousands of volunteer hours, both in and outside of the shelter, to keep the facility humming and the animals happy and healthy.
The AWLA offers a way for just about everyone to help improve the lives of Alexandria's Animals:
Adopt: The Vola Lawson Animal Shelter, operated by the AWLA, houses all varieties of animals seeking homes and families to call their own. The staff takes the time to get to know the animals individually and can help you make the right match, from energetic kittens to quiet senior dogs, friendly domesticated rabbits to lively parakeets and more (iguanas, anyone?). Adoption fees cover medical evaluations, vaccinations, tests and veterinary care, microchipping for identification, as well as spaying and neutering. Adoption fees are waived for adopters aged 65 and up who adopt senior animals (eight years and older).
To find out about animals available for adoption, stop by the shelter during visiting hours or visit AlexandriaAnimals.org/Adopt.
Donate: Although the AWLA receives a portion of its budget from the City of Alexandria, donations from the community make up more than half of its funding. There are numerous ways to support the shelter, including sending a check payable to the Animal Welfare League of Alexandria; contributions through United Way (#8372), the Combined Federal Campaign (#92767) or other workplace-giving programs (CVC #8068); gifts to commemorate the passing of a friend, loved one or companion animal, or gifts in honor of a friend or pet; donating items listed on the AWLA's Amazon Wish List; and remembering the AWLA in your will. Details on these and other ways to donate can be found on AWLA's donation information page at AlexandriaAnimals.org/support-us.
Foster: Foster caregivers are key to providing extra care and attention to animal residents who need it the most, including puppies and kittens, adult animals recovering from surgery or illness and animals who need a break from the shelter environment. Fostering can be a short- or long-term commitment, and the AWLA's foster caregivers say that preparing their charges for the next chapter of their lives is the best possible reward.
Foster caregivers receive training on how to care for their particular foster animals, and the AWLA provides all the basic supplies and medical care for each foster animal. Foster caregivers are asked to provide a clean, quiet environment for their foster animals, and each animal housed in the safe and loving home of a foster caregiver means there is space for one more animal at the Vola Lawson Animal Shelter. For those who can't make a long-term commitment, the foster sleepover program offers the opportunity to foster for a night or two. You can read the story of one foster caregiver's experiences with weekend sleepovers on the AWLA blog at AlexandriaAnimals.org/news.
Volunteer: The AWLA is assisted by a vibrant corps of volunteers — now numbering more than 550 — who help with everything from walking dogs to socializing cats to wildlife transport, and even gardening and laundry. Volunteers provide all the "extras" needed to keep the animals content and the shelter functioning smoothly. Volunteering at the AWLA is a two-way street: Volunteers give their time and talent and receive the love and affection of hundreds of animals (and humans) in return.
Onsite volunteers must be at least 18 years old, although the AWLA also offers youth volunteer opportunities, such as Book Buddies and a variety of at-home activities that support the shelter animals. Frequently asked questions about volunteering at the AWLA are answered online at AlexandriaAnimals.org/volunteer-faqs. More information about volunteering can be found at AlexandriaAnimals.org/volunteer.
Still have questions about how you can help enrich the lives of Alexandria's Animals? Call the shelter at 703-746-4774 for more information.
The Animal Welfare League of Alexandria is a local 501(c)(3) organization. Operating the Vola Lawson Animal Shelter, which is Alexandria's only open-access animal shelter, the AWLA touches the lives of more than 6,000 animals every year, including strays, lost pets, local wildlife, rescued animals and animals surrendered by their owners. The AWLA is committed to addressing animal homelessness, promoting animal welfare and serving as an educational resource for the community. More information can be found at AlexandriaAnimals.org.