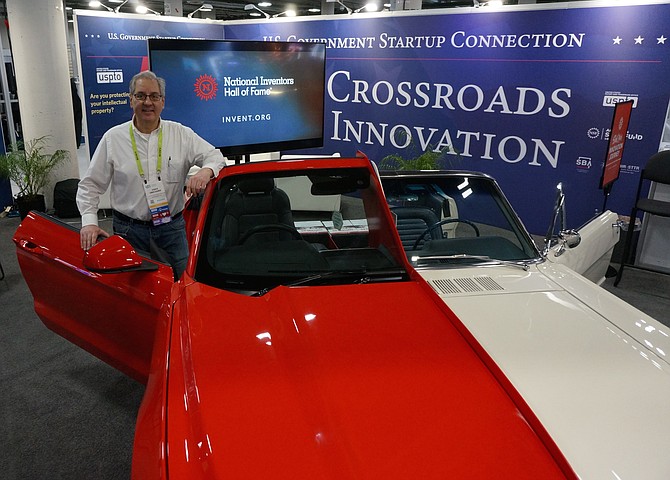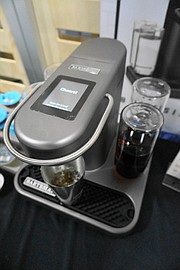 "Seeing the emerging technology here is really incredible." —Skip West of MAXSA Innovations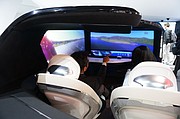 As self-driving vehicles were taking to the streets of Las Vegas, one local vehicle was getting some attention of its own during the recently concluded 2019 CES technology show.
"This is a one-of-a-kind Ford Mustang," said Vince Grecznaik of the Alexandria-based National Inventors Hall of Fame. "This custom split-model car demonstrates the progress of automotive design and technology over the course of 50 years and is a centerpiece of our museum inside the U.S. Patent and Trademark Office."
The NIHF collaborated with the USPTO, the National Science Foundation and the Small Business Administration to share space at the technology show, which attracts more than 188,000 industry attendees from around the world.
"By collaborating we have been able to showcase some start-ups that would otherwise not have the opportunity to be here," said John Cabeca of the USPTO.
With more than 4,500 exhibiting companies and exhibit space of more than 2.9 million net square feet, CES 2019 showcased the world's biggest companies in addition to hosting more than 1,200 startups at an area called the Eureka Park Marketplace.
"[Artificial Intelligence] pervades the show," said Gary Shapiro, CEO of the Arlington-based Consumer Technology Association that runs CES. "Almost every major company is showing AI and applications that are just truly jaw-dropping."
Skip West, an Alexandria native and founder of MAXSA Innovations, has been exhibiting at CES for 35 years.
"I'm a small company," said West. "We don't have the big flashy displays. We have products that solve everyday problems. And my mother understands them."
CES is one of several trade shows that West attends each year and despite the cost, is worth the investment.
"Seeing the emerging technology here is really incredible," West added. "We do OK in sales but CES is more about the networking. I am able to get some great ideas for my next generation of products so it is totally worth it to be here."