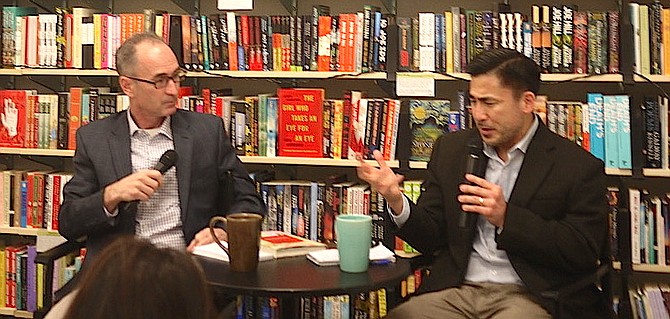 Scott Tong's book about looking for his family's roots in China is more than a book about roots. It is a book about China, its difficult relationship with the West, the hand-me-down guilt that continues to plague Chinese whose grandparents may have been too western, or too willing to work with Japanese occupiers. It's about abandoned children and adoption. It's about being an American and trying to explain American politics and culture to foreigners even if those foreigners are, technically, family.
Tong's book is like a banquet of dim sum you ordered in Kowloon — you are not sure what you are getting — then you take a bite and it's clear you are in for a treat. It opens a door to the yin and yang of traditional and foreign ways tugging on the Chinese, particularly students and young people.
"Chinese always struggle with the question of how to be modern and Chinese at the same time. I'm not sure they've found the answer yet," Tong said.
Talking about his book at Politics and Prose last January, Tong said: "I'm going to go back eventually and see some of the people who are in the book. Not everyone likes it. One of my father's best friends told my father,
'I would never let my son write a book like that.' Some people aren't painted the way they wanted to be," Tong said.
His audience at Politics and Prose murmured, "It was a brave thing to do." Tong replied, "It's more ... trustworthy. It's another case of the American worldview clashing with the Chinese worldview: an American wants to tell the story, warts and all, and in the telling, in being truthful, become the exorcist. But the Chinese view reflects generations of Confucian rules about key relationships: teacher- student, parent-child, elder-younger. You don't disrespect an elder by telling his story if he ended up being arrested for collaboration with the enemy."
Tong and his father travelled to a China to find the village with their surname. They couldn't find it. They ran into Communist Party apparatchiks who alternately made things difficult or — almost worse — easy. They ran into relatives who could hardly wait to tell him stories, particularly graphic ones like his grandfather's habit of spitting. It was strange being in a village where everyone had the same name. "When my father and I went there, my dad introduced himself as Tong Hu," Tong said. "Guys looked at him and said,' Huh? Everyone has the same last name here! Why say that!?'" Tong tells of the characters he met with humor, mostly, and sometimes an American edge, the subtext of which is: "Seriously?"
A question from the audience: Which character in your book would you ask what question? "I would ask: 'why did my grandfather work for the Japanese?'"
The book is also about taking a long trip with one's mother and father, and watching them discover things they too did not understand about the previous generation.
In an interview this January, Tong talked about what he learned about his mother and father going back to China with them. It was his trip back to his mother's village that was the most elucidating. His mother had left China in 1950 when she was seven. She had lived a lifetime in the West and had never talked about her father. This trip showed Tong the wounds of war, losing her father at a young age, experiencing shame about his role during the war … had not healed. Once day at lunch she said, "The story about my father is very embarrassing; it would be better if you don't put it in the book." Tong acquiesced, but as they found out more, they learned her father's decision wasn't a black and white one. Others whose parents had been alive during the war told Tong, "a lot of us had collaborators in the family."
Tong and his mother also learned about the horrors her father and others were subjected to at Delingha Prison Labor Camp. In the end she gave Tong permission to keep his grandfather's story in the book, "because others who have held this in and felt shame, can now talk about it. Tong said: "My whole life I saw my mother as a mom, but on this trip, I saw her as a daughter."
About his father, Tong learned how grateful he was to have gotten out of China when he did. He had never really talked about it. He had a younger brother who was left in China and suffered his whole life because he had overseas relations. "But as we went along and asked questions, and gleaned more about life in the village, my father talked more about his past, and was more emotive about how, but for the grace of God, he would still be there."
For Tong, it was equally revealing to write the book. He had learned that in Taiwan and Hong Kong, he was different, but in mainland China he was an outsider, and he reported on China as an outsider. The more he researched the story, the more he realized his family's story was China's story. His people, like the Chinese people, thought about the outside world long ago, and then were interrupted by war, Mao, retribution, and the Cultural Revolution. He was no longer such an outsider. He found himself telling his father's brother: "This story has to be told in a real way — setbacks, infidelity, arrests, labor camps — to humanize what so many people have overcome."
Tong, known to many from his role in on the public radio business show, "Marketplace," is a graduate of Georgetown University. He has lived in Arlington and raised his three children here, with his wife Cathy, since returning from his journalism assignment in China. His book is for sale on Amazon.com. Paperback and audiobook versions are due out in March 2019.