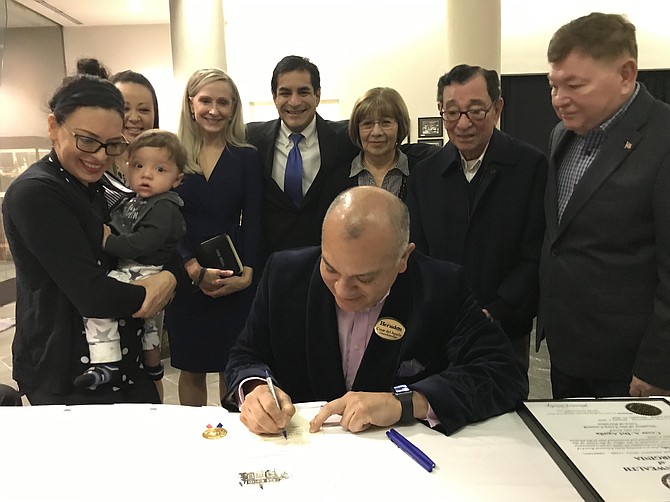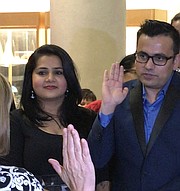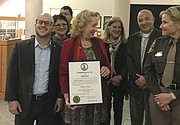 Mayor Lisa C. Merkel and members of the 2019-2020 Herndon Town Council were formally sworn into office at a special ceremony held Wednesday, Jan. 9, 2019, at the Herndon Municipal Center. The ceremony marked historical firsts for the town, Fairfax County and the Commonwealth of Virginia.
Two councilmembers took the oath of office. Herndon Town Councilmember Cesar del Aguila is the first Latino American in elected office in the town, and Pradip Dhakal is the first Nepalese American in elected office in the town, county and state, and one of only four elected Nepalese Americans in elected office in the country according to Merkel.
TOWN MANAGER Bill Ashton welcomed members of the community, visitors and dignitaries among them Fairfax County Supervisor John Foust (D), Fairfax County Sheriff, Stacey A. Kincaid and Mayor David L. Meyer, City of Fairfax. Reverend Stephen Smith-Cobbs Pastor, Trinity Presbyterian Church provided the Invocation. He asked that as the Town Council begins its new service for 2019-2020 that God grant them wisdom and understanding.
Viki L. Wellershaus, Town Clerk, administered the Oath of Office to Merkel who will serve her fourth consecutive two-year term as Mayor of Herndon, the third largest town in the Commonwealth of Virginia. After taking her oath, Merkel addressed the large crowd seated in the lobby of the Herndon Municipal Center and standing on the second-story balcony looking down. She said, "I thank you for once again placing your trust in me, and it is my honor and privilege to serve as your mayor. …When I was first elected in 2012, I got some great advice from a former mayor about how to get things done. Simply have a vision and stick with it. And that's what the council and I have tried to do. Goals have been pretty straightforward: Downtown, Metro, Strong and Inclusive Community. Downtown remains my number one priority. Public-private partnerships are complex, and the progress is slow but steady. Comstock plan is in site-plan review and hopes to be before HPRB by spring. …Metro is coming, and Herndon is ready. On opening day you'll be able to drive, walk, bus or bike to Herndon station. And opening day is slated to happen next year. Most importantly, Herndon is a hometown for everyone. A place where all are welcome, no matter where you come from, how you worship, or who you love."
Following her remarks, Merkel introduced each member of the Council individually. She read their biography and invited each forward with family and friends to take the oath of office administered by Wellershaus. In addition to Merkel, del Aguila and Dhakal, the other members of the 2019-2020 Herndon Town Council sworn-in at the ceremony were Jennifer K. Baker, Signe V. Friedrichs, William J. "Bill" McKenna and Sheila Anne Milstead.
EARLIER IN THE WEEK, Merkel and members of the Herndon Town Council approved a resolution naming Sheila A. Olem as vice mayor for the 2019-2020 term.
"It is a very exciting time to be in Herndon, and the council is ready to get to work," said Merkel. "Herndon will be well served by this dynamic, diverse, visionary group of people and I am honored to share the dais with each of them."
Roland Taylor who sought a Town Councilmember seat in the recent election and lost, attended the ceremony. Afterward, he said, "I am so optimistic with our new diverse council and look forward to helping where needed. We should see a more transparent and welcoming council, respecting all views."