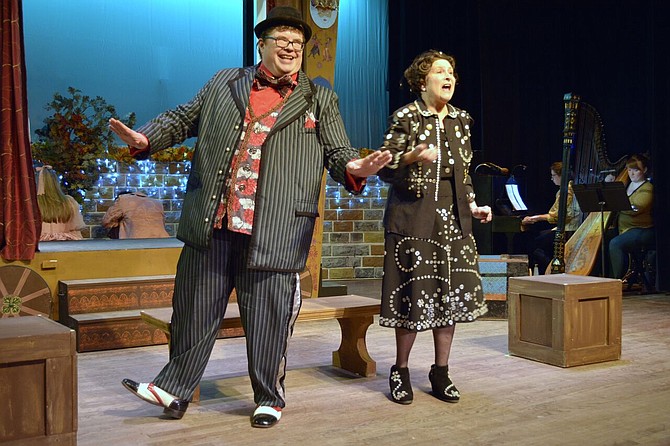 The Little Theatre of Alexandria (LTA) is presenting "The Fantasticks" from now through Feb. 2. This musical by Tom Jones is a tale of a boy, a girl, and their meddlesome fathers who nudge them toward marriage by pretending to keep them apart. With a nod toward Shakespeare's "Romeo and Juliet," this musical has been enchanting audiences with its universal themes and songs, including "Soon It's Gonna Rain" and "Try to Remember." The show is produced by Sharon Field and Rance Willis.
According to Director Eleanore Tapscott: "Apart from the gorgeous score and great songs, what really stands out to me about this play is its theatricality. We have echoes of various theatre styles — commedia, Shakespearean, vaudeville. Young lovers divided by feuding families sounds like a certain play set in fair Verona. The vegetation fixation of the parents hints at the Shakespeare's green world comedies. The wall makes us think of the rude mechanicals' production of 'Pyramus and Thisbe' in 'A Midsummer Night's Dream.' The play's primary source material is loosely based on 'Les Romanesques' ('The Romancers') by Edmond Rostand (yes, he who wrote 'Cyrano de Bergerac,' another popular play about a complicated romance). My goal with this production is to honor those theatrical styles."
Stephen P. Yednock is playing the role of Bellomy, who is Luisa's father. "He lives next door to Hucklebee, Matt's mother and his best friend. Bellomy and Hucklebee know that Matt and Luisa would be perfect for each other but kids being the way they are will resist the whims of their parents. So, in a clever ploy to bring them together, they build a wall between the houses and forbid their kids to see each other. This, of course, makes the two young adults defy their parents and see each other leading to a blossoming romance," he said.
He said Director Tapscott has incorporated the idea of using many old theatre conventions, especially comedia del arte within the show. "In her concept, each of the actors wears a mask at the beginning and end of the show to bring out the idea that each of us is a stylized actor from a traveling acting company who is then playing the part of 'Bellomy,' 'El Gallo,' 'Hucklebee,' etc. So, in a way I'm playing two parts in this show, 'Bellomy' and the commedia dell'arte actor who is playing Bellomy."
Rachel J. Hogan is playing the role of Luisa. "My character is an imaginative and fierce young lady who lives everyday as if she is the princess in her own fairytale. Through the course of the show, however, she discovers that life is not all flowers and rainbows, as she once hoped. Regardless, Luisa loves without apology and finds strength in her own convictions," she said.
She added: "Because Luisa is so entrenched in whimsical ideology, it has been a challenge for me to speak with truth, and not just drama, when portraying her as a character. It was my initial decision to play a majority of her lines as big as possible, but I have since focused and decided that grounded energy is the best way to go for this particular role."
Fred Lash, who's been in the show four times, beginning in 1979, is playing the role of Henry. "I love this role, as it affords me the opportunity to mix Shakespeare, Laurel and Hardy, and Robin Williams all into one character," he said. "Obviously, this show, and its memorable musical score, has always been a favorite of mine since it opened in New York in 1960. As Henry, an aging actor who has performed so many years that he has worn down a bit, I find a lot of myself and my experiences. However, despite his age and years of acting, he is still able to 'dress the stage' quite well and project to the back row of the theatre."
He added: "I want the audience to be uplifted and to recall those times in their various pasts when they experienced love for the first time; but to also realize that love and happiness do not come without pain, suffering, and a certain amount of sorrow. It is the ups and downs of life; the peaks and valleys of living; and the ebb and flow of happiness that the audience should see, hear, and embrace."
The Little Theatre of Alexandria is presenting "The Fantasticks" from now through Feb. 2. Show times are Wednesdays through Saturdays at 8 p.m.; Sundays at 3 p.m. Tickets are $29 to $34. The venue is located at 600 Wolfe Street, Alexandria. Visit www.thelittletheatre.com.