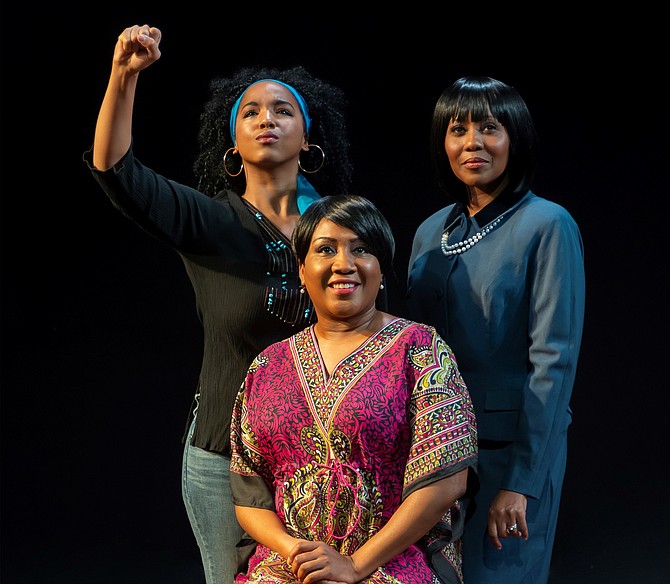 For the fourth time, MetroStage in Alexandria is reprising the musical, "Three Sistahs," from Jan. 24-Feb. 24. The show premiered in 2002, when it received the Helen Hayes nomination for Outstanding New Musical, and it was brought back again in 2007 and 2014.
"Three Sistahs" exposes the souls of a trio of strong, independent women as they gather together in the family home one last time. They reflect on the past, present and their hope for the future with powerful music and insights about their lives and relationships. It mixes a tapestry of gospel, rhythm and blues, bebop and funk, with a score by William Hubbard and lyrics by Thomas W. Jones II. It is a family drama inspired by Chekhov's masterpiece and set during the Civil Rights and anti-war movements in 1969.
According to Carolyn Griffin, producing artistic director at MetroStage: "There are timeless themes, memorable characters, and unforgettable music. Set in Washington, D.C., in 1969, these sisters are gathered in the family home after a funeral for their brother. Everyone can relate to the circumstances, to the sibling relationships and ultimately of their hopes and dreams for the future. The music supports them every step of the way, and the audience will never forget the evening spent with the Bradshaw sisters."
She continued: "We premiered 'Three Sistahs' in 2002, and since then it has been a company favorite. It is the only show we have ever brought back for a fourth time and when you hear the music and get to know these three independent strong women you will understand why. Played by three remarkable actors, one actor, Roz White, who is familiar to our audiences, has been in all four productions. Also of note — the original music was all composed by Alexandria's own William Hubbard."
She added: "So when we call it MetroStage's iconic musical we mean it! Since MetroStage premiered it here, and Alexandria is the composer's hometown, then maybe we should be calling it 'Alexandria's iconic musical.'"
Roz White plays the role of Olive Bradshaw, the eldest of the sisters. "Olive is a college professor who has a chip on her shoulder after being the caregiver of her father through his illness and until his death. When we meet Olive, she is hurt and bitter because her sisters have not come to visit or stepped in to assist her with their father's care," she said. "She masks her bitterness under a cool, aloof exterior. The truth is, Olive is a control freak and at times overbearing. Although the sisters love each other deeply, loss, grief, and unrealized dreams have made them edgy and unwilling to be understanding of each other's need for a true sisterly connection, free of judgement and criticism that family can often dish out rather harshly."
She added: "The most challenging thing about playing Olive is that I have previously played Marsha in past productions here at MetroStage. So, I am striving to create a different approach to Olive, that is not mixed in with Marsha's rhythms and physicality. It's a great exercise as an actor to have the opportunity to play two roles in the same piece, and so I welcome the challenge. I'm having a great time bonding with my stage family. This will be a rewarding and moving experience for us as well as the audiences who will come to share with us at the theatre!"
Kara Watkins plays the role of Marsha, the middle sister in the Bradshaw family. "She currently lives with her husband, Carlton, in Ohio. The last time she came home was one year ago for her father's funeral. As with her sisters, she has her own ghosts that she must confront in the house. There is unfinished work and things left unsaid that may need to be brought to light in order for her to feel content enough to continue on," she said.
She continued: "Finding the moments where the emotions come bubbling to the surface and when they break through has been the biggest challenge for me. In a way it mirrors something about everyone in real life. We all think there are moments when it's best to keep things in for the good of relationships or maybe even for our own peace of mind."
"When is it better to speak your mind or to divulge a secret? How best to keep the peace? These are some of the questions that Marsha asks herself throughout the play. It is also my challenge to show Marsha's levels, not keep her at one note throughout the play … keep her relatable," she said.
The story of "Three Sistahs" is by Janet Pryce, with book and lyrics by Thomas W. Jones II, and music by William Hubbard. Jones will direct and William Knowles will music direct and play the keyboard while conducting Greg Holloway on drums and Yusef Chisholm on bass.
MetroStage will present "Three Sistahs" from Jan. 24-Feb. 24. Show times are Thursdays and Fridays at 8 p.m.; Saturdays at 3 p.m. and 8 p.m.; and Sundays at 3 p.m. and 7 p.m. Tickets are $55 with student and active military and group discounts available. Four or more tickets are $50. For ticket reservations, call 703-548-9044 or go online to www.metrostage.org.