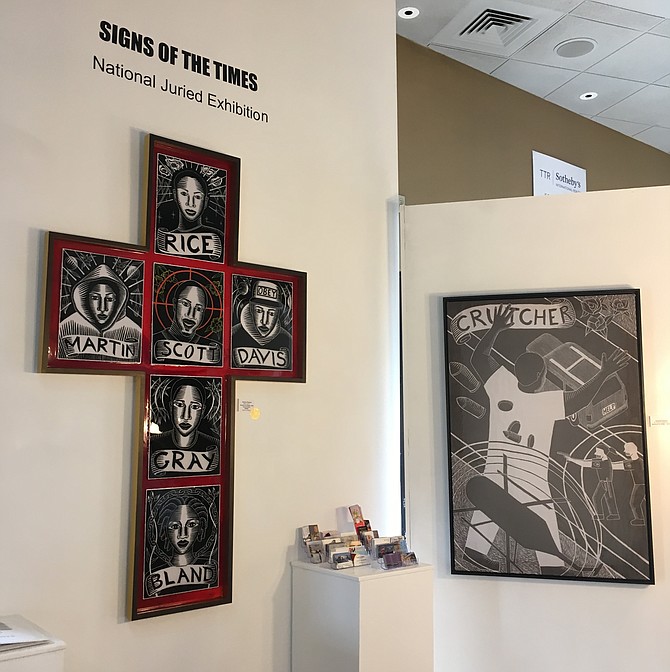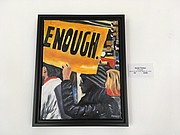 The "Signs of the Times" exhibit at the new Gallery Clarendon is an absorbing display of art in different mediums. Presented by the Arlington Artists Alliance, this national juried show highlights the work of 75 artists sharing their perceptions and thoughts of life today.
Steena Fullmer Anderson, deputy director and studios manager of Gallery Clarendon, said the organizers wanted a "thought-provoking show" and believes they achieved this goal. The participants are from all over the country, including one artist from the Czech Republic, Martin Dosek.
Many artists provided social commentaries on issues plaguing Americans. These include immigration, climate change, social media, gun violence, and the "Me Too" movement.
Artists expressed themselves in different formats such as paintings, photographs, sculptures, textiles, mixed media, and collages. Suzanne Yurdin's mixed media paintings, "He Said" and "She Said" were inspired by the Kavanaugh hearings. Alicia Hagadom's "Global Temp Since 1880: a warning" showed an oil painting of a desert landscape but across it is an embroidered graph showing the rising global temperatures as she addressed the growing concern over climate change. Jane McElvaney Coonce's "Family Time" demonstrated the changing dynamics of family interactions as her painting shows family members ignoring each other as they use their phones.
Justyne Fischer's "Black Icons" was awarded first prize. Her portrait woodcuts are memorials of unjust killings. The portraits of victims Tamir Rice, Walter Scott, Jordan Davis, Freddy Gray and Sandra Bland are arranged on a cross, "placed on an iconographic format to remember them as saints." According to her artist's statements these explorations of "Social Memorials" are "meant to highlight the absurdity of the event while respectfully memorializing the human being beyond a one-day headline."
All this artwork is displayed on the first floor of the Gallery Clarendon. Members of the Arlington Artists Alliance converted the space — formerly the restaurant Fuego Cocina y Tequileria — last year to house exhibits on the first level and studios and art classes on the second floor.
The Arlington Artists Alliance is a non-profit group that "encourage and support both established and emerging artists who work on all forms of visual art." They provide classes and workshops for both adults and children that cover drawing, painting, writing, mixed media, photography and wearable art.

Details
Sign of the Times Exhibit
Ends Jan. 31, 11 a.m.-7 p.m.
Gallery Clarendon
(Clarendon Boulevard corner Filmore Street)
2800 Clarendon Blvd. #R-800
Arlington, VA 22201
www.galleryclarendon.org
Free