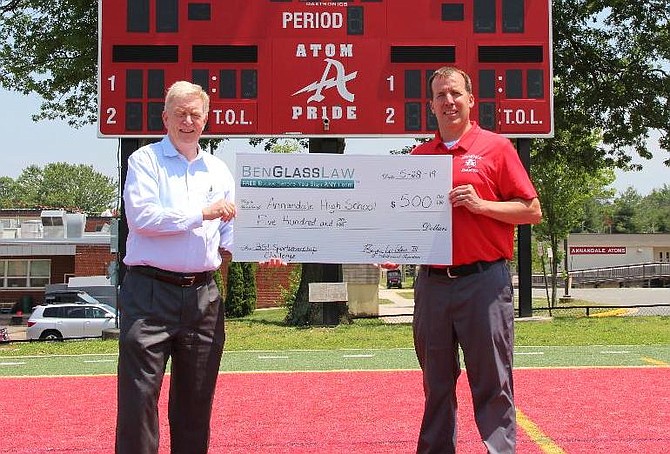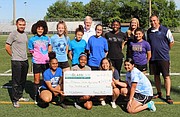 Soccer referee Ben Glass, 61, of Fairfax Station just completed his second year of the Varsity Soccer Sportsmanship Challenge – awarding $5,000 to 10 local boys' and girls' high school varsity soccer teams. The mission was to help change the culture and improve the bad treatment of referees from players, coaches, and parents during soccer matches. Each team received $500 (or $1,000 per school) if they survived the soccer season with no red or yellow cards for dissent, profanity, or unsportsmanlike conduct.
"We're saying to them, congratulations, two years ago we decided to make a difference in their culture and set up a difficult challenge. You made it through and we want to congratulate the players and coaches. This culture starts at the adult leadership. We also want to thank the parents," said Glass, a referee for 45 years. "If the coach is exhibiting good sportsmanship and if the parents exhibit good sportsmanship, then the players will play along with that."
THIS YEAR'S 10 SCHOOL WINNERS included: Forest Park HS Girls; Gar-Field HS Boys and Girls; Potomac HS Girls; Woodbridge HS Girls; Annandale HS Boys and Girls; Mount Vernon HS Girls; Hayfield HS Girls; and Charles J. Cogan HS Girls.
Does he think the program is working? "Yes, I think the program is working because it has started a conversation. Even if those schools don't win, they have reported to us that the conduct of the coaches and players is better because it's something they are focusing on. Ben Glass wanted to start a conversation. There is really no excuse for yelling at a referee," said Glass, who refereed 17 games in the spring. Another law firm in South Dakota duplicated the program for basketball, he added.

He said last year he had a conversation with a high school principal who said their athletic culture was very poor. "They had been working on developing a culture of good sportsmanship. They won. She was very excited about that because they see what goes on, and the feedback we have gotten is, yes – keep doing it. It's a tough challenge but we're glad you're out there making this voice for sportsmanship heard," he said.
Compared to youth sports, Glass thinks the culture is better in high schools. "The reason is the VHSL takes this very seriously. I think the culture at the youth level is probably getting worse. There are too many spoiled kids and too many parents who think they're entitled. High school is pretty fun. I think the school leadership takes this more seriously today in part because there's video out there. There's a decent chance the video is going to end up on YouTube," he said.
THE BEST PART of the process is the awards presentations at the end of the season, added Glass. "The school leadership loves this and the coaches and players are proud of having succeeded of reaching the goal of being a winner. From our point of view, it's a lot of hours to keep up with this. Because I'm a soccer guy, we like hearing the positive feedback from the school leadership," he said.
Glass is a native of Annandale, played soccer at Thomas Jefferson High School as well as the College of William and Mary in the 1970s, where he majored in government and philosophy. He got a law degree from GMU and for 35 years has been in private practice (Ben Glass Law) specializing in personal injury law and disability insurance. He has nine children – five biological and four adopted from China (ages 37-17) – with wife Sandi.
For more information, visit www.sportsmanshipchallenge.com or visit JustAskBenGlass.com or contact BenGlassLaw at 703-988-6414.