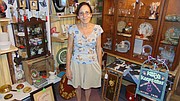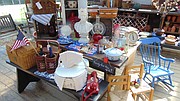 Larry Krop has been selling Christmas trees since 1986 at his Krop's Crops at 11110 Georgetown Pike in Great Falls. In addition to adding apples, corn, tomatoes, watermelons, and more, he is best known for his Halloween and Christmas traditions of hayrides, camp fires, apple cider, and pumpkins.
THIS WEEK, he's offering up an expanded Krop's Vintage Market Place – a flea-market-style shabby chic center that grew from 14 to 19 vendors. With names like The Antique Gardener and The Tangled Web, they sell everything from antiques to jewelry to knick-knacks, and are open from June 1 to Dec. 24, with the hours 10 a.m. to 6 p.m. daily.
"I'm just trying to do something for the vendors so they have a place to sell their stuff. Basically, I'm here for Halloween and Christmas. This is just something to do in the summertime and something extra," said Krop.
According to vendor Ginger Mahon, whose business is called Staging for Today: "One of the things that's so appealing about Krop's Vintage Market is unlike so much of Great Falls, it is this 40-year-old barn that you walk into that evokes another time period, and as you're walking around you're seeing things that remind you of your childhood," she said.
"You're finding a piece of jewelry that you want to give as a gift for your daughter's graduation or even an item to decorate your living room. That is the magic of this secret barn that nobody knows about," she said.
Mahon, who is in her third season, sells anything from Grandma's attic finds to furniture to Waterford crystal, antiques, China, and jewelry. "It's a real mix of accents for the home," she said.
She added: "We're trying to get more traffic as a designation for collectibles and unique finds and antiques closer than having to drive out to Leesburg and Lucketts and beyond. Instead of it just being a farmer's market that Larry's had for years, we want you to come over here and look through the barn and go home with a wonderful gift or something special to your home."
Her booth has less expensive antiques – a $5 pitcher, creamer and little plates that one could hang on a wall – all the way up to Waterford. "Last year, I had a few beautiful old antique dressers I was selling. So, it's the kind of place where you want to come to not just once but over and over again because every space is always changing."
Another vendor, Hatsie Charbonneau, who grew up in McLean and now lives in Sterling, calls her business Kitty's Keepsakes; she has a separate jewelry business called Fans by Ferwhitia (her Goddess name). "I have a lot of vintage items we've been collecting over the years. I don't really have this as a business; I have it as a means to bless others with these really nice items that go back to the 1800s," she said.
"I've got a lot of rare, one-of-a-kind things. I've got a lot of antique tins; a lot of trivets; nice jewelry; dinner plates; China; silver; and very unique items," she added. "The one thing that attracted me to want to be a vendor here in the first place is the variety here. One person might have shabby chic stuff; another person might do some furniture. If you're looking for something special, we just brought in an H.T. Cushman original cigar humidor and cigarette stand that would make a great gift for somebody's man-cave."
According to Fairfax resident Joy Harrison, who is originally from the Philippines and runs the business called Bella and Joy: "The Krop's Vintage Market is definitely a place where we have artisans, people who design jewelry, who have a good eye for finding vintage items, collectibles, and things like home furnishings, gifts and unique items."
She added: "My family and I used to have a business in Vienna; we would import wood items and baskets. When we folded the business, we had some beautiful things that were left over that I'm slowly adding to my inventory."
"I would say that most of my items would make people smile. I like conversation pieces; I like pieces that reflect history; pieces for entertaining – that little something that would remind you of your grandmother's table…. Something that brings back what family gatherings were. I like tablewares; I like fine china. It's an enjoyable thing to find unique pieces, especially the ones that are very old," she said.
KROP'S VINTAGE MARKET PLACE is located at 11110 Georgetown Pike in Great Falls. Visit the website at http://www.kropscrops.com.