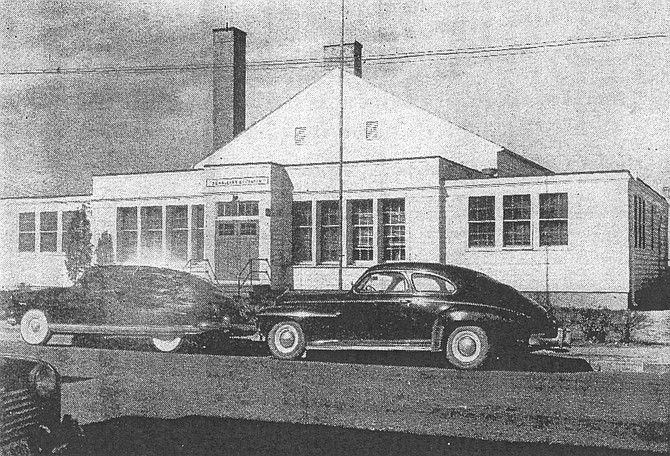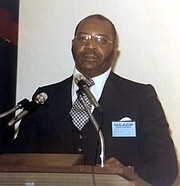 On any given day, you would find Roger C. Anderson serving his community, working with the youth and community leaders in his beloved City of Alexandria. Not an African American child that grew up in Alexandria in the 1950s, 1960s, 1970s and 1980s that has not been influenced by him.
After graduating from Parker-Gray in 1943, he attended Shaw University in Raleigh, N.C. At the age of 18, he was drafted for the U.S. Army. When he completed his service, he continued his education at Virginia State University and the University of New Mexico.
Throughout Mr. Anderson's life, he prepared himself to be a leader in his community. Once Mr. Anderson returned to Alexandria he became active in his community working with children and adults to make their lives better. He was one of the founders and was chairman of the Alexandria Society for the Preservation of Black Heritage, Inc. He became a coach of the Alexandria Romans, a player and a coach of the semi-professional Rams' football team. He was a member of the United Way, a member of Project Discovery Advisory Board, a Vista volunteer, and one of the founders of "We Care" – Alexandria's first anti-drug community organization, a founder of the Black Patriots Foundation and the host of "Black Reflections," a TV Show on local cable network. He was also a member of Alexandria's Departmental Progressive Club.
Mr. Anderson held many jobs during his career, but many people in Alexandria remember him as director of the Pendleton Street Recreation Center, supervisor of the Cameron Street Recreation Center, hall monitor in the Alexandria Public Schools and director of the swimming pool at Bailey's Crossroads. He was a community leader and a strong advocate for the African American community. The children he supervised became better adults because of his influence. He not only instructed the youth to respect themselves and their elders, but he listened to their concerns and problems.
He was passionate about the history of his people. In 1983, Mr. Anderson was interviewed by the Washington Times newspaper about the opening of the Alexandria Black History Resource Center (Alexandria Black History Museum) where he managed the renovation of the center. He said, "My generation grew up not knowing very much about our ancestors, not dreaming they were anything more than slaves … etc." He was proud that Alexandria finally got a center that would display Alexandria's rich African American History.
His grandfather, Henry Anderson, came to Alexandria after 1870 from Fauquier, Va. and he lived at 515 North Henry St. His parents, Clifton C. Anderson and Hattie Proctor Anderson, purchased their property at 1004 Pendleton St. When he and his wife, Nellie Huffman, married on Jan. 21, 1954, they later purchased a house next door to his parents at 1006 Pendleton St. where they raised their four children Stanley, Kurt, Lorri and Barry.
With all the work that Mr. Anderson did for the youth, he still had time to use his leadership skills in his church. In his early years, he was a member of Alfred Street Baptist Church. He transferred to Roberts Memorial United Methodist Church where he immediately started a food distribution program, became a trustee and a member of the men's choir, and he participated in other administrative boards in the church.
By the 1990s, that soldier was experiencing health issues and was forced to slow down. On Aug. 7, 1999, Roger C. Anderson died. He was buried among other soldiers at Quantico National Cemetery. He was a soldier, a leader, an activist and a teacher. He made a difference to so many youth in Alexandria, including this writer.
Char McCargo Bah is a published author, freelance writer, independent historian, genealogist and a Living Legend of Alexandria. She maintains two blogs, http://www.theotheralexandria.com and http://www.findingthingsforu.com.