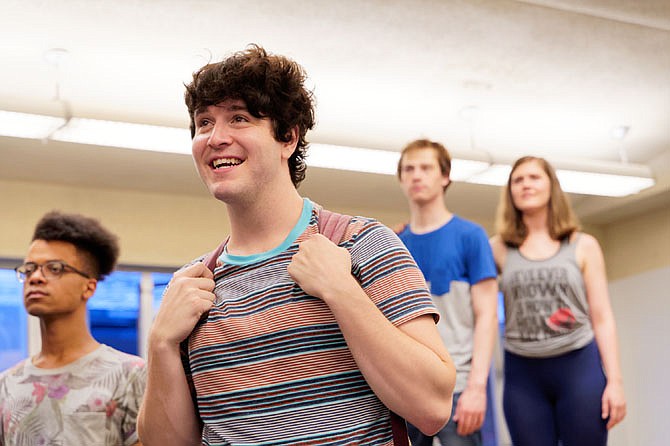 Monumental Theatre Co. is presenting the musical, "Be More Chill," from July 11-29, 2019 at Episcopal High School in Alexandria. The Broadway play based on a teen fiction novel is told from the perspective of Jeremy, a high school "loser" who is tormented by bullies and goes to great length to gain self-confidence. He learns of a SQUIP (Super Quantum Unit Intel Processor) pill that can communicate directly with his brain after being swallowed. The pill instructs him on how to dress, act, talk, and comport himself through each day. It helps to transform him from a klutzy loser to a member of the school's elite to gain the attention of his lady friend, Christine.
Director Izzy Smelkinson said she fell in love with "Be More Chill" a few years ago when she first heard the soundtrack. "A contemporary show about a misfit who loves video games and comic books and masturbation? I knew it had to be produced somewhere in D.C.," she said.
She added: "I wanted to take this musical about a young man (Jeremy) who is struggling with his identity and have it feel universal. The source material as well as the book and lyrics are all written by cis men and something about that never sat right with me. Employing an all-female creative team, and talking openly about how Jeremy's problems are universal has allowed us to expand upon the story."
One of the biggest challenges of directing this piece is that there are two popular iterations of the musical (one that is currently on Broadway) that young theatre-goers are very familiar with, she said. "Since the show gained popularity through its internet fan base, audience members may come in with visions of what the show should look or feel. We have worked hard to make this piece as unique to Monumental and our creative team as possible," she said.
For audience takeaways, she added: "'Be More Chill' at its heart is about learning to be kind to and love yourself. I hope that aside from having a good time, the audience leaves knowing they should listen to the unique voices in their own heads and to leave the haters at home."
Jyline Carranza is playing the role of Christine Canigula, a high school theatre kid. "Although she is the only one in her school's theatre department, that does not stop her commitment to the department. She is also one of the few characters in the show that does not care about her high school's social hierarchy. This draws Jeremy in, and leads to her being his love interest," she said.
She added: "The hardest part of working on this show is that fact that it is currently on Broadway and known by many people. The reason this makes it challenging for us is because many people already have an idea of what the show looked like on Broadway, but we want to make it our own. I can apply this to the character of Christine as well. Many people have seen Stephanie Hsu's take on Christine, but I would love to take a different approach on the character. Nonetheless, it has been such a fun process and we are so excited for the audience to see our take on this amazing show," she said.
Caroline Dubberly plays the role of the SQUIP. "I'm a quantum computer taken in pill-form and I implant myself in the brain of my user and tell them what to do to be cooler," she said.
She added: "The SQUIP role is written for a tenor to sing, and for the most part I'm singing it up an octave. It's definitely one of the most challenging vocal tracks I've ever done, so I've had to be really disciplined in my training and the way I take care of my body and voice leading up to and during the process."
Christian Montgomery plays the role of Michael Mell, Jeremy's best friend. "He is a music-obsessed, self-proclaimed loser who is in love with everything '90s. He spends most of his time getting high by playing video games. He supports Jeremy and wants him to be happy, but knows the value of staying true to yourself and owning your weirdness," he said.
He continued: "One of the main challenges I faced while working on this show was taking myself back to high school. It's nice because Michael and I have a lot in common, but getting back into the head space of being a high-schooler is always very specific. Luckily for Michael, some of the things I do to get me in his zone are listening to Bob Marley and playing Super Smash Brothers, so I can't complain too much."
"Be More Chill" runs from July 11-29, 2019, at the at the Ainslie Arts Center on the campus of Episcopal High School, 3900 West Braddock Road, Alexandria, VA 22304. Tickets for $35-$40 can be purchased online at https://www.artful.ly/monumental-theatre-company