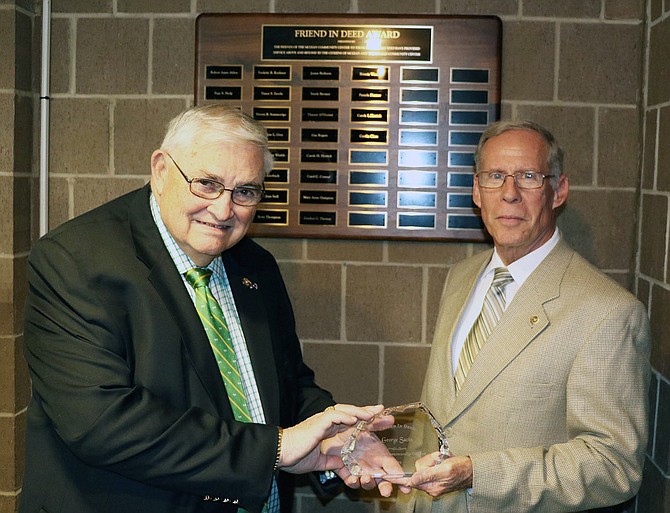 At its annual meeting, The Friends of the McLean Community Center (FMCC) awarded its 2019 "Friend in Deed" Award, to McLean Community Center Executive Director George Sachs. Sachs is the 28th person to receive the award "with gratitude for outstanding leadership and support of the McLean Community Center." FMCC President W. Glenn Yarborough Jr. presented the award on Monday, June 10, at the center, which is located at 1234 Ingleside Ave.
Yarborough recognized Sachs for working to conceptualize, redesign, successfully fund and see to completion the $8 million renovation of the center's Ingleside Avenue facility. "No one has had a more profound influence on McLean and the McLean Community Center than George," said Yarborough. "George brought home the refurbishment of the MCC and has given all of us a center of McLean for all, young and old."
The 24-month renovation and expansion project increased the center's footprint by an additional 7,256 square feet and added three new meeting and activity rooms. A new stairway to the second floor of the building, where The Alden Theatre's balcony and the McLean Project for the Arts are located, was added, as was a new, glass-enclosed courtyard at the center of the building.
Sachs' name will be added to the list of award recipients on the "Friend in Deed" plaque displayed in the Center's main lobby.
For more information on Friends of MCC or to volunteer, visit www.friendsmcc.com.