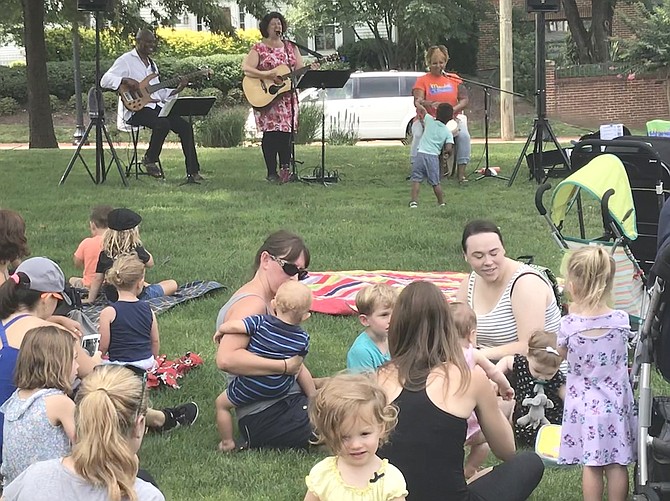 Thursday mornings from 10:30 - 11:15 a.m. now through August 29 are the free Farmers Market Fun Days on the Town Hall Square, 777 Lynn Street in the Town of Herndon. The first performance for the 2019 series, held July 11, featured Marsha and the Positrons, a District of Columbia-based "kindie," kids + indie rock. Marsha Goodman-Wood brought her rich voice and positive energy to the stroller-pushing crowd. She also got the children, parents and caretakers dancing on the grassy slope and singing along.
"We expect all kinds of performances such as musicians, puppeteers and kids' rock," said Holly Popple, Performing Arts/Special Events Supervisor for Town of Herndon.
The Parks and Recreation Department "strives to keep the arts alive and well in Herndon and inspire the enjoyment of the arts in children."
Farmers Market Fun Days Lineup 2019
July 18: Zig Zag the Magic Man
July 25: The Uncle Devin Show
Aug. 1: Rocknoceros
Aug. 8: Mr. Jon & Friends
Aug. 15: Yosi Music
Aug. 22: Blue Sky Puppet Theatre
Aug. 29: Drew Blue Shoes