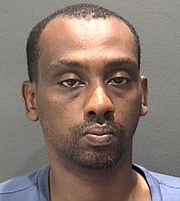 The Arlington County Police Department has charged a suspect following a sexual assault and fraud investigation. Yohannes Gebreyesus, 36, of Arlington, was arrested and charged with attempted rape, credit card theft, credit card fraud and served with an outstanding warrant for felony probation violation. He is being held without bond in the Arlington County Detention Facility.
At approximately 7:42 p.m. on July 13, police were dispatched to the report of an assault that just occurred. Upon arrival, it was determined that the female victim was inside a business when an unknown male suspect entered, cornered her and made inappropriate sexual comments. The victim yelled at the suspect and forcefully pushed him away, prompting him to flee the scene on foot prior to police arrival.
It was later determined that the victim's credit cards had also been stolen during the incident and used at multiple locations. Officers developed a suspect description based on additional information. Officers on patrol near the Crystal City Metro on July 14 observed an individual matching the suspect description. The suspect was taken into custody without incident, determined to be previously wanted out of Arlington County, and subsequently charged with various criminal offenses related to the July 13 incident.
This remains an active criminal investigation. Anyone with information related to this investigation is asked to contact Detective J. Echenique of the Arlington County Police Department's Special Victims Unit at 703-228-4241 or ACPDSVU@arlingtonva.us. Information may also be provided anonymously through the Arlington County Crime Solvers hotline at 1-866-411-TIPS (8477).