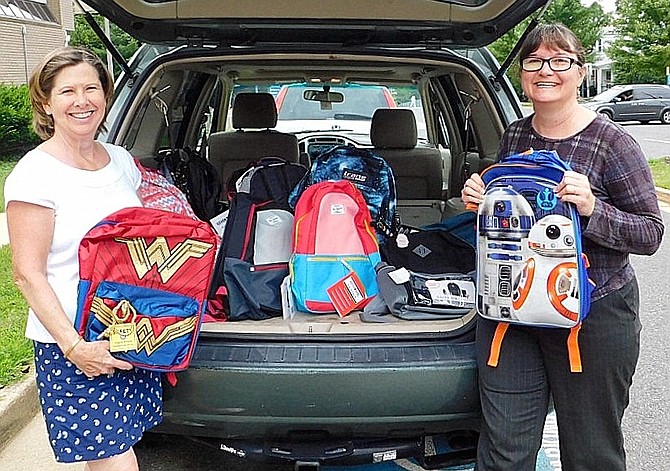 It's tough being a student without a sturdy backpack or the proper school supplies at the start of the school year. So Britepaths is doing its best to change that picture.
But it's such a huge undertaking that it can't do it alone. So the Fairfax-based nonprofit is hoping the community will help out by donating funds, backpacks and calculators to assist students in need.
It's Britepaths' annual Collect for Kids Back to School Program, and all the recipients attend schools in the Fairfax County area. Locally, they go to Fairfax High, Lanier Middle School, and Daniels Run, Fairfax Villa, Bonnie Brae and Oak View elementaries.
"It is incredible to think that 56,000 students in Fairfax County Public Schools are eligible to receive free or reduced-price meals," said Britepaths Executive Director Lisa Whetzel. "These children face a variety of challenges that no child should have to deal with. They may miss meals, lack resources for school supplies and have limited access to appropriate school clothing."
"These are just some of the issues that distract them from concentrating on school and meeting their highest academic potential," she continued. "We hope the community will respond generously to ensure that children whose families are in crisis are able to start the new school year with dignity and all the tools they need to succeed."
In 2018, Britepaths assisted 2,655 students in need. This year's goal is to provide supplies for at least 2,500. Britepaths collects and then provides the supplies to its partner schools for distribution.
From now through Aug. 16, Britepaths' Collect for Kids Back to School Program will collect cash, backpacks and calculators. The funds donated will help it purchase supplies at a steep discount through Fairfax County's Collect for Kids Partnership. While families often pay $40 or more per child for supplies, Britepaths will be able to buy all the supplies needed for $10-$15 per student.
How to Help
Make donations via Britepaths' secure, online donation page at britepaths.org or mail a check to Britepaths, 3959 Pender Drive, Suite 200, Fairfax, VA 22030. Write "BTS" on the memo line.

Bring donations of new, larger-sized backpacks and scientific calculators – which may be new or gently used, TI-30xa Solar School Edition or TI-84 – to Britepaths' office (see address above), Mondays through Fridays, between 10 a.m. and 2 p.m. (Calling ahead is advised). Additional, local drop-off sites are listed below.

Backpacks may also be ordered and shipped directly to Britepaths through "wish lists" on Amazon.com and DollarDays.com.

For more information on donating or sponsoring the program, contact Joanne Walton at 703-273-8829 or jwalton@britepaths.org, or visit britepaths.org.

Companies and organizations may also help by holding a donation drive or Serving as a backpack collection site. Contact Joanne Walton.
Drop-Off Sites
Alya Salon, 139 Park St. SE, Vienna
Central Fairfax Chamber of Commerce, 4031 University Drive, Fairfax
Chef's Cafe, 3957 Pender Drive
Cinema Arts Theatre, 9650-14 Main St., Fairfax
Cox Farms, 15621 Braddock Road, Centreville
Flooring America Design Build, 9949 Main St., Fairfax
Freedom Bank: Several locations: 10555 Main St., 1st Floor, Fairfax; 502 Maple Ave. W, Vienna; 11700 Plaza America Drive, Suite 110, Reston; 4500 Daly Drive, Suite 240, Chantilly; and 4211 Pleasant Valley Road, Chantilly
Gathering Grounds Cafe, 10637 Braddock Road., Fairfax
JCC Northern Virginia, 8900 Little River Turnpike, Fairfax
Quest Diagnostics, 14225 Newbrook Drive, Chantilly
STEM exCEL, 4010 University Drive, No. 104, Fairfax
Sun & Moon Yoga, 9998 Main St., Fairfax
Sugar Mama's Ice Cream, 11208 Lee Hwy., Fairfax
University Mall Theatres, 10659 Braddock Road, Fairfax
---
Britepaths is in its 35th year of providing assistance and a way forward for struggling individuals and families throughout the county. It relies on funding and volunteer support from businesses, individuals, community organizations and faith communities to provide a multitude of services.