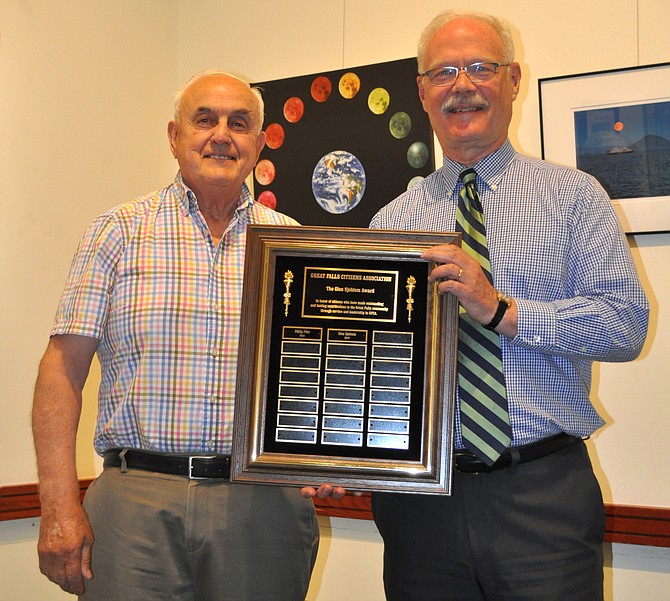 At the annual meeting of the Great Falls Citizens Association on June 3, president Bill Canis announced that long-time Great Falls resident and former GFCA committee chairman Glen Sjoblom had been selected by the board to receive GFCA's annual President's Award. This award was established in 2018 to recognize outstanding and sustained service to GFCA and the Great Falls community, working through GFCA and its committees. Recipients must also demonstrate collaborative teamwork, innovation and leadership. Canis noted that "America celebrates what it values and, in making this award, GFCA is celebrating volunteering and commitment to community."
Glen Sjoblom was selected for his more than 40 years of service to GFCA, his co-chairmanship of both the Long Range Planning Committee, and a special committee that oversaw the state's cleanup of polluted groundwater in the center of town.
Sjoblom was also instrumental in keeping a large water treatment facility from being built on Seneca Road, helped establish the county's resident curatorship that led to the preservation of historic Turner Farm, established a summer beautification program in the town's commercial areas, and participated in most of the major commercial and residential land use decisions, including GFCA's opposition to the rezoning of Brooks Farm.
Sjoblom also helped lead a community effort in the 1980s to unify all of Great Falls to attend Langley High School.
In honor of his tireless service to the community, the GFCA board voted to change the name of the award to the Glen Sjoblom Award and commissioned a plaque that now hangs in the Great Falls Library with the names of recipients, with space for many more into the future. The 2018 recipient of this award was Phillip Pifer, then-vice president of GFCA.