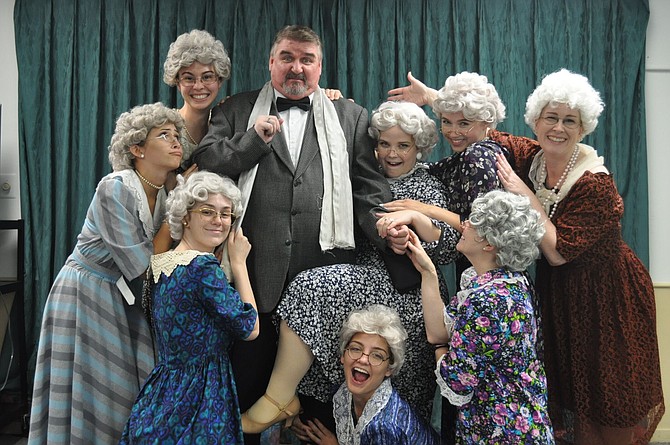 The Little Theatre of Alexandria (LTA) is opening its 2019-2020 season with the Mel Brooks musical comedy, "The Producers," from July 27 to Aug. 17. The story revolves around Max Bialystock, the one-time king of Broadway producers, who is hungry to strike it rich. Leo Bloom, an accountant with dreams of someday becoming a theatre producer, discovers that they could get richer by producing a flop instead of a hit. They start by finding the worst show, worst director, and worst actors. When their new production, "Springtime for Hitler," turns out to be a smash success, the plan is thrown off and the partners' lives are thrown into chaos.
Director Kristina Friedgen said, first and foremost, "The Producers" is a comedy, so the primary goal is to make the audience laugh. "The characters in this piece are outrageous and their behavior reflects that. To that end, we have pushed the physical comedy in this piece," she said. "Looking at this story within the context of our society today with greater awareness of #MeToo and LGBTQ issues, and the push toward more diversity and inclusion in our society has been an interesting challenge."
She added: "However, I think that Mel Brooks has a great fondness for every character in this piece and their earnest pursuit of their objectives, no matter the trope that they are based off of has perfect blend of ridiculous candor. We have worked to create an inclusive environment within the humor. By that I mean that no character is ever 'made fun of' without his or her knowledge."
Co-Producer Mary Beth Smith-Toomey said she decided to produce the show because it is such a challenge. "I love Mel Brooks and wanted to work with our outstanding designers, our director, Kristina Friedgen, Stefan Sittig, our choreographer, and Colin Taylor, our music director, to bring this musical to life on LTA's stage," she said. The other co-producer is David Correia.
She added: "It is literally taking all our resources to create it, and it will be an outstanding production. The sheer number of costumes and wigs is amazing. I have produced more than 60 shows at this point and this is definitely one of the biggest I have ever produced. We have an outstanding cast, staff and crew for this show, as well as an 18-piece orchestra."
Sittig said his main challenge was balancing out the varied skill levels of the large and diverse cast. "They all organize their talents differently, and they have varying levels of dance training. I wanted to bring the most out of each of their abilities, and still be able to form a cohesive ensemble for the big dance numbers," he said.
He continued: "Also, a show that was originally a Susan Stroman show is going to be very dance heavy. And this show is no exception — there are several large ensemble numbers, and often they involve intricate formations and even fun props. Get ready to see a lot of 'prop-ography,' another signature of Stroman's shows that I felt I had to honor here. LTA's stage is a lot smaller than the average Broadway house, so I did have to adapt things a bit, but the feel/style is the same big brassy style you'd see in a Stroman show."
Sirena Dib plays the role of Ulla, the Swedish secretary who joins Max and Leo on their quest to Broadway. "She is not afraid of putting herself out there and likes to 'flaunt it' anytime she can. Her hobbies include: singing, dancing, exercising, eating herring, and tidying up. Her favorite time of day is 11 a.m., but you will have to come to the show to find out why," she said.
Chad Ramsey plays the role of Franz Liebkind, a German playwright who raises carrier pigeons on his rooftop in Greenwich Village. "Franz does a lot of screaming and yelling, so my vocal chords take a beating. Also, this is a show that prominently features Nazis and Adolph Hitler, so when you're talking about the show in public you sometimes have to dodge horrified looks from passersby," he said.
Timothy King plays the role of Carmen Ghia, who is director Roger DeBris' "common law assistant" — his right-hand, protector, and significant other. "Carmen is fiercely loyal and protective of Roger (and hysterically funny)," he said.
He added: "I joined the cast a little late, so I had some catching up to do but this process has been so much fun. The cast is talented, dedicated, supportive, fearless, and outrageous. We laugh a lot in rehearsals."
Shannon Robichaud plays a lot of different characters. "My favorites are Showgirl in 'I Wanna Be a Producer,' Little Old Lady in 'Along Came Bialy,' and Storm Trooper Tapper in 'Springtime for Hitler.' They are all fantastic dance numbers." she said.
She added: "I hope that everyone who comes to see our show leaves with a light heart from laughing so much. This show is hilarious."
Chad Friedman is also playing multiple characters in the ensemble. "The most fun thing about being in the ensemble is that I play a different character every scene ranging from an old lady to a Nazi stormtrooper. The only named character I play is an eccentric and clueless actor named Donald Dinsmore who's always wanted to be in a Broadway show," he said.
Erin Pugh also plays in the ensemble. "One of the biggest challenges was being able to sing and dance at the same time. I haven't done a musical in about two years so I've had to readjust my breath support so that I can sustain complicated harmonies while I'm kicking, twirling, and dropping into the splits. It has been tough but so much fun," she said.
The Little Theatre of Alexandria is presenting "The Producers" from July 27 to Aug. 17. Show times are Wednesdays through Saturdays at 8 p.m.; Sundays at 3 p.m. Tickets are $29 and $34. The venue is located at 600 Wolfe Street, Alexandria. Call the Box Office at 703-683-0496 or visit the website at www.TheLittleTheatre.com.