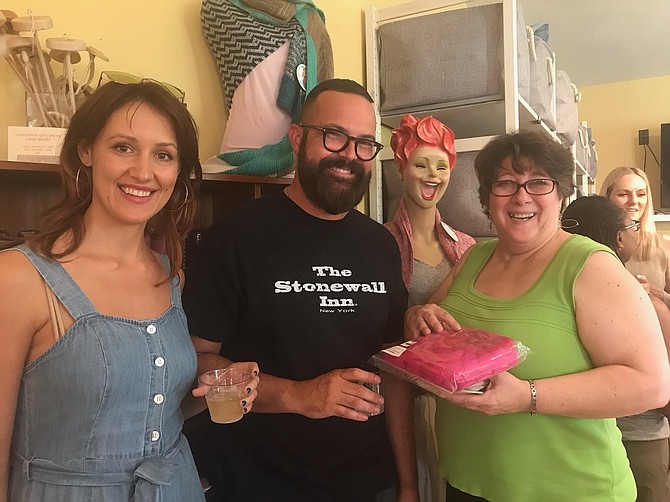 "This is much more rewarding than all the jobs I had prior to this." — fibre space owner Danielle Romanetti
A crowd of customers, friends and community supporters gathered July 19 to celebrate the 10th anniversary of fibre space, a yarn boutique that specializes in yarns and fibers from independent, local and American-made sources for knitting, crochet and spinning.
"It's exciting to see all these people here," said owner Danielle Romanetti, who launched the retail business in 2009. It's a huge accomplishment to be here in Old Town for 10 years."
Romanetti opened the original fibre space on North Fayette Street. In May of 2013, the store outgrew its original location and moved to King Street. In 2017, the business expanded again when Romanetti purchased the building of its current location at 1319 Prince St., a historic flatiron building at the intersection of Commerce, Prince and West streets.
"Owning the building is the biggest longevity you can add to a business," Romanetti said. "Buying this space is a huge benefit to fibre space and other business owners in the community encouraged me to do it."
As part of the building purchase, fibre space partnered with the City of Alexandria to adopt the public space in front of the building. The boutique invested in the beautification of the public space for small community gatherings, outdoor space for knitters, and to create events for those who live and work in the neighborhood.
Romanetti, an Alexandria resident, has been knitting since she was 6 years old. While working at a nonprofit job, she began hosting stress relieving knitting classes in Washington and Northern Virginia. The classes became so popular that she needed to hire contractors to keep up with demand. Eventually, her customers pushed for her to turn her hobby into a career.
"This was my hobby since I was little," Romanetti said. "I was working at a really miserable, nonprofit job in the city and knitting was my stress relief, my anxiety relief. I saw a need in Alexandria for a yarn store and community space and realized this could be a business and my full-time employment. It's been amazing and much more rewarding than all the jobs I had prior to this."
In addition to supplies, fibre space hosts a wide selection of classes, workshops and other special events and the location has become a popular gathering place for neighborhood residents.
"This community is really tight," Romanetti said of the Alexandria small business owners. "When they adopt you, they take care of you and look out for you. It's really good to be here and be a part of Old Town."