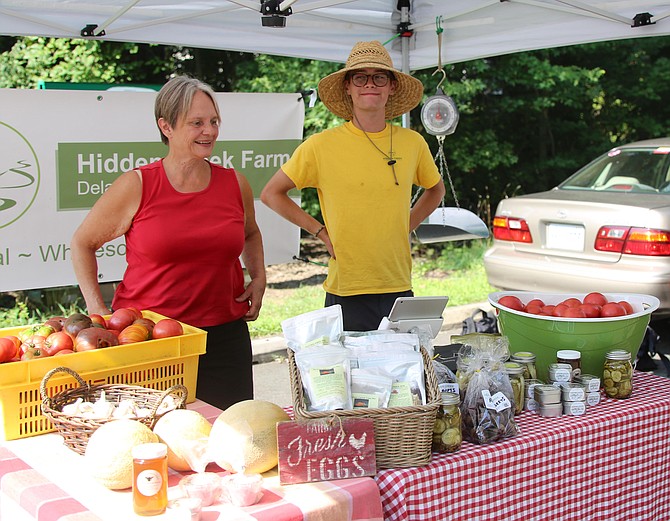 Over the last 30 years, the McLean Farmers Market has been known as the spot to buy local farm products in season.
The market is in full summer bloom: juicy tomatoes, sweet cantaloupes, refreshing watermelons, a variety of baked goods, fresh meat, eggs, ice cream. …Once you try, you will become a loyal customer for years to come. Quality and freshness really make all the difference.
McLean Farmers Market is open Fridays from 8 a.m. to 12 noon at Lewinsville Park, McLean. This year, sixteen local farmers are offering fresh fruit and vegetables, herbs, flowers, plants, meats, eggs, and honey. Prepared foods such as baked goods are also sold at the market. A note to residents: Farmers markets in the county are not able to accommodate pets, except service animals.
Like other farmers markets in the area, McLean's is strictly producer-only. Farmers must come from within 125 miles and may only sell what they raise on the farms or what they produce on their own.
It's also a learning experience: Encourage children to eat healthy food choices. Take them with you. If they are unfamiliar with gardening, it can be a great time to discuss how the fruits and vegetables grow to become what they find at the market.
FIRST CUSTOMERS come early. "We have people that are waiting to get in the morning," William Smith, market manager, said. "I'm just happy to see people waiting to get in. I think that's a good sign. I noticed that people who come regularly are typically here like in the first hour". The early bird catches the worm, so the early customer gets the best.
There are loyal customers and loyal vendors who have been meeting each other for many years.
Lyn Phipps has been here for 33 years, since the early days of the market. In her 40s, she started her business with selling home-baked goods and preserves. Ten years ago she gave up cooking. Since then she's been selling flowers and plants (and it sells like hotcakes by the way!) All her bouquets were sold out shortly after the market opened. "I have my regular customers who buy flowers every week. I make colorful bouquets, and all you have to do is put them in a vase when you get home,"said Phipps. Now she shares her space with her friend. He also sells plants.
Sabry Sharkawi offers a variety of potted herbs, flowering plants, handcrafted teas, and spices. He's been here for 34 years. He hails from a family of farmers from Egypt.
"I knew everything about taking care of plants," said Sharkawi. "When I graduated from the Alexandria agricultural college, I added scientific knowledge to my experience. That helped me a lot because agriculture is not traditional anymore. It's built on science. I attended a lot of conferences, learned from magazines. I was one of the first who started greenhouses in the US on the farm."
Sharkawi has three daughters. From a young age, they helped him, but later they went their separate ways. "The eldest daughter is a chemical specialist. She works for the Army. My middle daughter is an engineer. She builds rockets. The youngest is a teacher. So, now I am doing all things by myself. I am growing, cooking, driving, and selling. I miss them very much..
Valentine Miller, the owner of the Valentine's Bakery&Meats, talked about his large family all working at the farm. "My wife and I, my son and daughter, son-in-law and my nephew. I would say it's mostly our family. Only one girl helps with the bakery." His truck is decorated with farm animals. His spot is the biggest at the market and one of the most popular. He handles all sales himself. "It's a lot of work. But we are fine. We've been up here in this area in Northern Virginia for 20 years already."
Four years ago, Andrea Young and her husband Dandy swapped their office work for the farm. Their 250-acre Hidden Creek Farm from Fauquier County is now successful and sustainable. Apart from high quality meat and eggs, the farm is also known for its wild honey as well as a large selection of homemade jams and baked goods.
Live music adds to any farmers market a festival vibe. The guitarist and singer Steve Smith plays old school blues every Friday. He contributes greatly to the relaxing atmosphere of the Farmers Market.
NEXT WEEK is going to be special because of the National Farmers Market Week. This event, with cooking demonstrations, games, kids' activities, and raffles for gift baskets is running Aug. 9 at the Mclean Farmers market from 8 a.m. to 12 Noon.