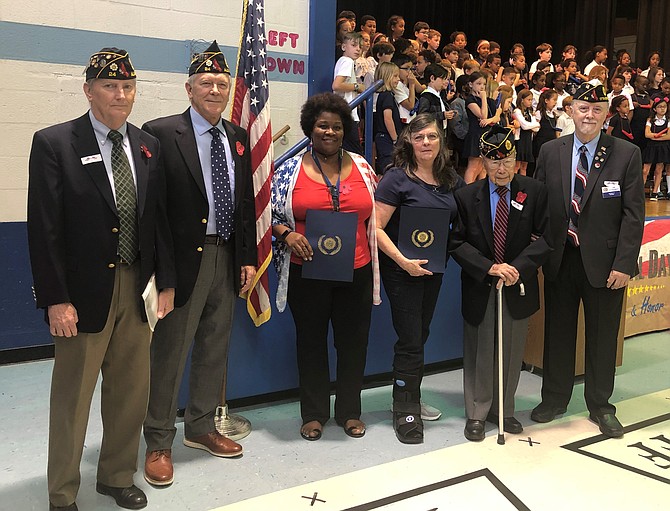 The third-grade class of Lyles-Crouch Traditional Academy presented a Memorial Day program May 24 that honored the sacrifice of veterans, recognized principal Dr. Patricia Zissios and kindergarten teacher Wanda Allen, and welcomed World War II veteran Col. Kim Ching as a special guest.
Under the direction of music teacher Dawn Seto, the program featured a selection of patriotic songs and readings of poems by the students. Commander Doug Gurka of American Legion Post 24 presented Zissios and Allen with certificates of appreciation for their efforts in promoting patriotism and recognizing the sacrifices of veterans.
"It's important that we understand, celebrate and remember the sacrifices made by our veterans," said Dr. Patricia Zissios during the program. "If we don't teach our children about these sacrifices, we don't deserve the freedoms we now enjoy."
Gurka thanked Zissios and Allen for their continued support of special programs marking Veterans Day, Memorial Day and Flag Day.
"The American Legion defines Americanism, in part, as loyal patriotism, religious tolerance, righteous freedom, fearless courage, honest integrity and a love for the principles that let our forefathers to found this country," Gurka said in presenting the awards. "One of the most important goals we have is to pass these ideals on to our children."