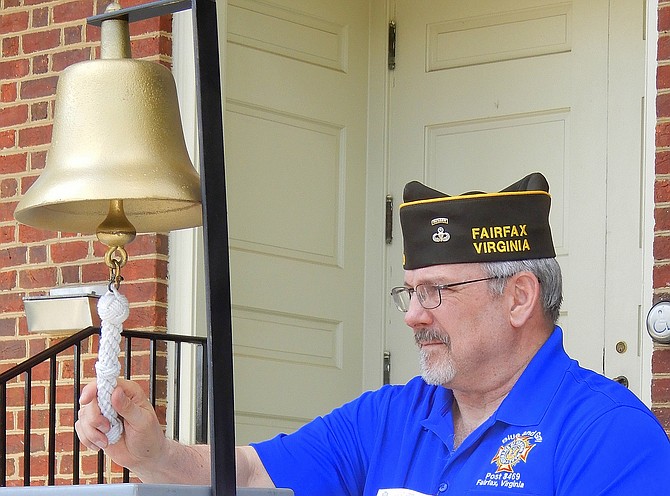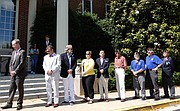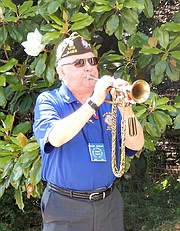 For many people, Memorial Day is simply a holiday from work and school, as well as the unofficial start of summer, complete with barbecues and pool parties. But the opportunity to enjoy such happy times was made possible by all those in the American military who died to protect their country's freedom.

It's something Fairfax City Councilman Sang Yi never forgets because, for him, Memorial Day is intensely personal. A friend with whom he attended the Merchant Marine Academy died in Iraq at age 24. He was Army 1st Lt. Aaron N. Seesan, and Yi wears a silver bracelet engraved with his name in remembrance.
"He died on May 22, 2005, with burns over 80 percent of his body from an IED," said Yi. "I think about him all the time. I wore his bracelet when I got married; and when I was elected to City Council, I thought, 'Aaron, you're here with me.'"
Yi was also among the residents and dignitaries who gathered Monday morning, May 27, at the Fairfax City Hall portico for the City's annual Memorial Day ceremony. Hosting it were American Legion Post 177 and VFW Post 8469.
"We pray for those who gave the last, full measure of devotion, put the welfare of others before their own and made the ultimate sacrifice for their country," said Chaplain Marcus Keiper, who gave the invocation. "Bless their widows and families and fill their homes with love, strength and peace."
U.S. REP. GERRY CONNOLLY (D-11) said being in battle is "horrific," but America's fighting forces have been courageous and willing to risk their lives. "Throughout our history, more than 1.1 million American men and women have died in combat," he said. "And Memorial Day is to remember all the soldiers who fell, and their families."
"Today we honor the memory of the people who had that heroic courage to face the enemy, and we honor the country for which they died," he continued. "Throughout all our wars, there were people who answered the call so that we could enjoy the freedoms we have today.
"When we pledge allegiance to the flag, we take an oath of allegiance to abstract ideals about freedom – individually and collectively – to think, pray and believe what we want and to express our opinions. We don't always live up to them, but that's what we push toward. May the memory of those who fell always be honored by our country."
State Sen. Chap Petersen (D-34) recalled the "Bedford Boys" – a group of WWII soldiers from the small town of Bedford, Va. Among the National Guard's 29th Infantry Division's regiments was the 116th Infantry, whose Company A was home to nearly three dozen men from Bedford — all of them volunteers. And on D-Day, June 6, 1944, they landed at Omaha Beach in Normandy and were among those who perished.
"The history of this nation isn't perfect, but it's a great history of striving to be better," said Petersen. "The U.S. has been consistently a positive force for good, and those who died did not die in vain. Their efforts had a great impact on this country."
Noting that next week is the 75th anniversary of D-Day, Del. David Bulova (D-37) said, "We honor those sacrifices by not only remembering those who gave their lives for us, but also their wives, husbands, children, parents, sisters and brothers."
Also referring to the "Bedford Boys," he said that, "As they were landing in Normandy and left their landing crafts, most of them were shot down. But the rest kept coming – and they had to be scared and terrified. And most of them didn't make it, so those are the ones we honor today."
Besides large-scale efforts, however, said Bulova, "There were many individual acts of heroism throughout other wars. These are our heroes, and today we honor them by making sure their names are never forgotten."
Speaking next was City Councilman Michael DeMarco. "I would like to recognize all those among us who have served or are currently serving, as well as any here who have lost a loved one in service," he said. "We are humbled by your sacrifice.
"On Memorial Day, we ground ourselves to the reality every Gold Star family knows: Our way of life has been shaped and made possible by those who have served, and by those who were wounded or lost. We're able to be here today, largely thanks to those who are not. Keep our military men and women close to your hearts, not only today, but every day."
Following DeMarco to the podium, Councilman Yi spoke about his own, fallen friend and noted that, to those joining the military, it's not just a job. "It's signing their name on a blank check to 330 million Americans, most of whom they've never met," he said. "And on Memorial Day, we ask why they died – why do people show up to the military and say, 'I'll go where I need to go and do what I need to do'?"
"It's because they love their fellow man and their country," continued Yi. "It's a pledge to serve the people next to them – their fellow soldiers and shipmates. It's also for an ideal of freedom and to preserve the principles of this country. So we honor them for the bravery in their hearts, their patriotism and their love of country."
FAIRFAX COUNTY SHERIFF Stacey Kincaid praised those who have had a "willingness to serve." She also said 25 percent of the Sheriff's Office staff are veterans who understand "tight deadlines, limited resources and team playing."
American Legion Post 177 Commander Jeff White explained that, on Memorial Day, "You fly the flag at half-staff, from sunrise until noon. Then you run it up the pole to the top, above all other flags. It's a metaphor for what we do on Memorial Day – we feel sad for a while, and then, later on, we drink a toast to those we've lost. So don't feel bad about your barbecues today – they'd want you have enjoy them."
Joe Christadore, commander of VFW Post 8469, asked attendees to pause at 3 p.m. for a moment of silence in memory of the fallen. And, he added, "Do something small to better your fellow man, every day. You can give them a smile, hold open a door or even try to change the world."
Then, one by one, people took turns reading the names of Fairfax City and County's war dead, from 1917 to the present, and a bell was rung after each name. Hank Roeder of Post 8469 played "Taps" on the bugle to close the ceremony. But before he did, Keiper gave the benediction, praying, "Dear God, we are comforted by the fact that we know you have welcomed them all home. Give us the same strength to guide, lift and inspire us to remember them every day."