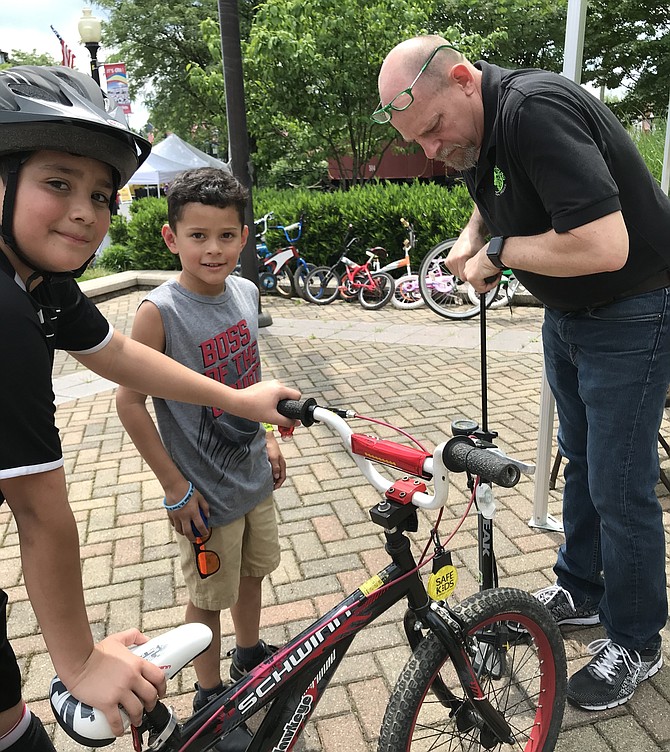 The Town of Herndon Parks and Recreation Department held its "Play It Safe: Bike Rodeo and Safety Fair" in front of the Herndon Municipal Center, 777 Lynn Street, just off the W&OD Trail on Saturday, May 18.
The event offered safety tips and gave children a chance to practice their biking skills via an obstacle course in a controlled environment.
The event also provided free children's bike inspections/minor repairs; a bike swap/give away and helmet give away with proper sizing.
Herndon Parks & Recreation Executive Director, Cindy Roeder reported more than 50 child helmets distributed during the 2-hour event. Debbie Spiliotopoulos, Senior Environmental Planner at Northern Virginia Regional Commission, who worked at the event and distributed "share VA roads" booklets describing Virginia law and safety tips for bicyclists, pedestrians and motorcyclists, said, "Green Lizard Cycling and INOVA Trauma Services donated the helmets, and the Lizard is doing the helmet fittings." The Green Lizard also sized the bikes for proper fit, inspected bikes and made minor repairs at no charge.
Edvin Orellan, 6, of Herndon, traded the small bike he outgrew for a bigger one. "This bike fits me better. I swapped my old one, and it will go to a different kid," he said.