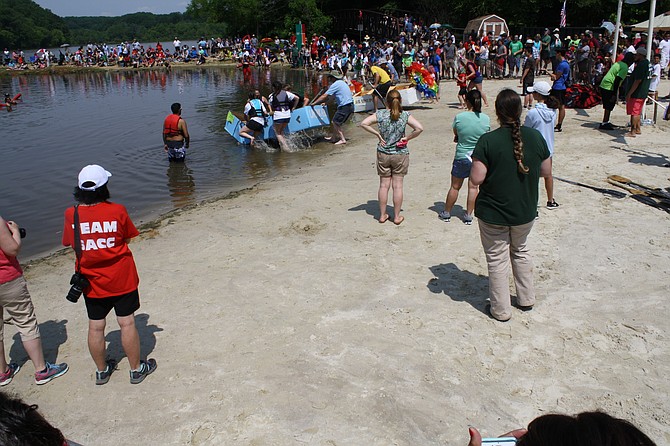 Building the NASA-themed Space X boat out of Kings Glen Elementary School was a Standards of Learning lesson as much as it was a student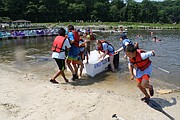 project for the annual Cardboard Boat Regatta at Lake Accotink. There were lessons on math, language arts, physics, public relations and writing, to build the boat, but when it came to coordinating the rowing, they practiced a few minutes before launching because "we were so worried about getting the boat done," said Sierra Berkley, 11. On the water, the Space X boat didn't come in first but the 27 students involved did earn the Team Spirit award.
"We had to make a lot of compromises," said Alex Smith from Burke.
The Space X was just one team among many who dealt with compromising, cardboard and duct tape at this annual event during the Springfield Days weekend on June 2. Fairfax County Chairman Sharon Bulova started off the event reading a proclamation that announced Springfield Days as an official event, and then the boats hit the water.
There were several heats of races throughout the day and winners in the various categories. Fans lined the beach, the announcer MC'd the event and lifeguards helped out in the water.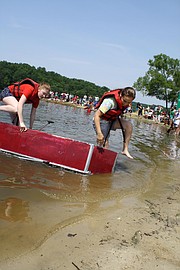 In case of any emergencies, the Greater Springfield Fire and Rescue Squad was nearby, and has been involved every year. "It's usually scrapes, heat exhaustion," said Kayla Thompson, a rescue squad volunteer that has been to races in the past.
After their first heat, team "Water Titan" was glad to throw their boat in the dumpster. A father involved called the waterlogged mess "a shocking success," but the crew had their fun and now it was time to move on. "All by ourselves, we made it," said Melvin Yohn, 10.