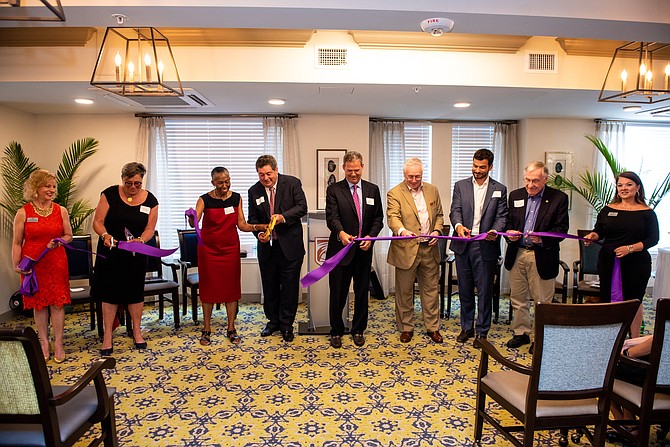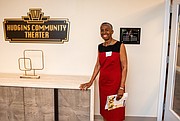 Hunters Woods at Trails Edge held its official Ribbon Cutting/Open House and Reception on Friday, May 31. During the event, David Ross, Partner & President of Atlantic Realty Companies, surprised Supervisor Cathy Hudgins (D-Hunter Mill), presenting her a plaque commemorating the dedication of the "Hudgins Community Theater," at Trails Edge, named in honor of her and her late husband Willie H. Hudgins Jr. for their service to the people of Reston.
"The Hunter Mill District Office has always worked to see projects to success; however, I'm most appreciative that David Ross and his organization recognized my late husband Willy for the work he did in the community," said Hudgins.

The open house featured tours of the common areas and model apartment with prize drawings throughout the day. "We are so thrilled to exclusively offer vibrant, state-of-the-art retirement living in Reston which allows people in Reston to age in place," said Cissy Nickel, Executive Director of Independent Living Operations, Hunters Woods at Trails Edge.
Trails Edge offers different apartment sizes and levels of assistance, such as independent and assisted living options, along with memory care and extended care. In addition, 20 percent of the independent living apartments are designated as Workforce Dwelling Units for qualified Fairfax County residents.
Trails Edge is located on the Turquoise Trail in Reston, which connects the property to adjacent amenities via pedestrian parkways under Reston Parkway and Colts Neck Road. Residents have easy access to Reston Community Center, Hunters Woods Retail Center and Southgate Community Center.
During the late afternoon event, David Ross, Partner & President of Atlantic Realty, presented Maggie Parker of Comstock and Greater Reston Chamber of Commerce a plaque commemorating the opening at Trails Edge.
Nickel said that on June 29, Trails Edge would hold a special event with Public Art Reston as an intergenerational project and with artist Ben Volta. According to IntegraCare, Volta was selected to create a permanent public artwork for the Reston community at the Colts Neck Road Underpass.
For more information, call Trails Edge at 703-429-1130.