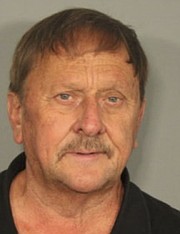 A Fairfax County man is in custody for a 1999 abduction of a woman in the Burke area. On May 30, detectives from Fugitive Taskforce with the assistance of the Hyattsville City Police Department arrested 67-year-old Allen Lewis Buracker at his workplace in the 2900 block of Belcrest Drive in Hyattsville, Md.
Detectives from Major Crimes Bureau – Cold Case Squad have been actively working on this case and new investigative leads allowed detectives to identify Buracker as a suspect.
On Aug. 18, 1999, a woman was attempting to locate a business in the Burke Town Plaza in the 9500 block of Old Keene Mill Road when she was approached by Buracker who was there doing property maintenance. He lured the victim to a vacant office where he brandished a knife and assaulted her. She was eventually able to escape and called the police.
Major Ed O'Carroll, Commander of the Major Crimes Bureau, said, "Our Cold Case Squad is a dedicated group of talented detectives that relentlessly pursue justice for the hundreds of victims of unsolved murders and sexual assaults. Their tireless efforts on these always active and important cases are a testament to their work ethic and the law enforcement profession. They will continue to bring closure to those victims and families affected by these heinous crimes."
Buracker is currently charged with being a Fugitive from Justice and is being held at the Hyattsville Department of corrections. He will be facing abduction with the intent to defile charges once he's extradited back to Fairfax County.
Since the 1990s, it is believed that Buracker has lived and worked in the following Virginia and Maryland counties or cities doing property maintenance: Prince William, Stafford, Spotsylvania, Prince George's, Fredericksburg, and Harrisonburg. Detectives believe there is a possibility there are other victims. They are asking for anyone with additional information to call the Major Crimes Bureau at 703-246-7800.