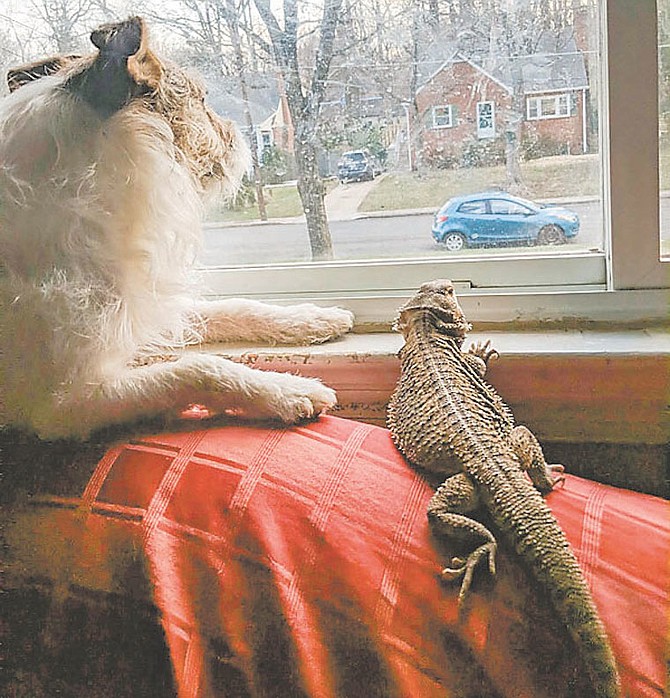 "Spaghetti Blueberry," the bearded dragon, likes to ride on owner Teagan Robinson's shoulder and take a walk wearing a harness and leash. Janelle Smith's guinea pig, Winston T. Featherbottom, is fond of sitting in her lap, and he chirps excitedly when she comes home from work. Westley the rabbit flies over the back of the couch to join Olivia Kwong and her husband to watch TV and adores his bonded bunny buddy Buttercup.
As the Animal Welfare League of Alexandria (AWLA) staff and volunteers know well, dogs and cats aren't the only pets that show affection. And the people who adopt these "non-traditional" shelter animals — rabbits, guinea pigs, ferrets, rats, birds, turtles, snakes and even the occasional fish — report that those pets can and do express affection for their humans, along with plenty of beguiling behaviors.
Spaghetti Blueberry, also known as Ghetti B, changes color at night, transforming from goldish tan to pale yellow. When the reptile gets upset, Robinson says, her chin grows large, black and menacing (thus the "bearded" moniker) and her body flattens out like a pancake, a strategy developed to warn off birds of prey.
Ghetti B loves eating live crickets and salad, especially if the salad is "moving." "I put my finger in and move the salad around, and she'll go to town," Robinson said.
Robinson adopted Spaghetti Blueberry from the AWLA in January 2018 and has learned the bearded dragon Do's and Don't's. The animals need to bask in two different types of light for most of the day — a heat lamp and a UVB light — to regulate their body temperature and promote digestion, she said. Humidity in the animal's tank also needs to be just right: too much humidity and the bearded dragon might contract a respiratory infection, but too little and the animal becomes dehydrated. Once the proper conditions are established, though, bearded dragons are "super easy to take care of," Robinson confirmed.
Winston T. Featherbottom was named to sound like a "vain old English man" to match some of his characteristics, Smith said, and the tricolored guinea pig seems to recognize his name when he's called. "He has a huge personality for a tiny guinea pig," she said. Besides snuggling with Smith and her husband, Edward Bradshaw, in their home in Alexandria, the pet has formed a special bond with one of the couple's dogs, a pit bull-mastiff mix called Gracie. The guinea pig regularly grooms Gracie, and the dog makes a point of greeting Winston in his room first thing every morning and last thing at night.
Smith said they chose a guinea pig at the AWLA in December 2017 after having a series of pet rabbits, rats, dogs and cats. They were looking for an animal that lived as long as a rabbit but with different needs and personality. "I was stopping in at the shelter to visit one of the guinea pigs, and he wouldn't have anything to do with me," she said. Winston (then known as Morgan) squeaked repeatedly for Smith to walk down and see him and seemed to already like her. She adopted him the same day.
Guinea pigs require a roomy pen — Winston's is larger than the average coffee table — with a solid floor rather than a wire or slatted one. Winston isn't very adventurous and doesn't often climb the ramp to his cage's upper level, but he's crazy about the little cardboard red barn in his cage, Smith said. Guinea pigs need Vitamin C in their diet, as their bodies are not able to produce it, so along with guinea pig pellets, Winston gets daily helpings of carrots and other fresh vegetables and fruits.
Olivia Kwong and her husband, Mike Daniels, were looking for a new kind of pet two years ago — they had had only fish — and spotted rabbits Buttercup and Westley on the AWLA's website. Buttercup is a white rabbit with tan markings, and Westley is black with touches of white fur. "I felt they were destined to be our bunnies," Kwong says. And destined to be together.
"They run over to each other so they can sit down and snuggle; it's the greatest thing ever," she said. "It's total bunny love. They also try to steal food from each other's mouth, even hay." Besides hay (which rabbits need in an unlimited supply) and daily greens, Buttercup and Westley love occasional treats of carrots and dried or fresh fruit.
Why did Kwong and Daniels choose rabbits? "I just like their little personalities, and they're less noisy than dogs and generally easy to train to use a litter box," Kwong said. She says that some rabbits, however, tend to chew on furniture, and that it's important to find a veterinarian who's knowledgeable about taking care of rabbits.
Buttercup and Westley are "house rabbits" — allowed to roam the couple's Alexandria home under supervision rather than being confined to a pen. As they roam, their individual personalities are on full display: Buttercup is more sedate but in control and is a "bunny who holds a grudge," Kwong says. "She'll remain mad for a couple of days after nail clipping." Westley is no pushover, she said, but definitely low man on the totem pole. He grunts when he's happy and is a more adventurous rabbit than Buttercup. "Sometimes a little black blur will go by, and it's Westley," Kwong says. "We call him our little explorer."
Note: Photographs of Spaghetti Blueberry, Winston T. Featherbottom, Westley and Buttercup all have been included in the AWLA's annual photo calendar. If your pet would like to be highlighted in the 2020 photo calendar and even win fun prizes, like a photo session with an AWLA photographer, visit AlexandriaAnimals.org/Calendar today.The Animal Welfare League of Alexandria is a local 501(c)(3) organization. Operating the Vola Lawson Animal Shelter, which is Alexandria's only open-access animal shelter, the AWLA touches the lives of more than 6,000 animals every year, including strays, lost pets, local wildlife, rescued animals and animals surrendered by their owners. The AWLA is committed to addressing animal homelessness, promoting animal welfare and serving as an educational resource for the community. More information can be found at AlexandriaAnimals.org.